Story
3rd Annual Art of Giving at V Lala Galleries Sep 17
September 17, 2015 by Teresa Lischka
The 3rd Annual Art of Giving event benefiting Food For Thought will be held on Thursday, September 17 from 6:30-8:30 p.m. at V. Lala Galleries. Three extraordinary South Walton artists will come together to auction off their pieces to help fight child hunger in Okaloosa and Walton counties.
Come out for a special night at V. Lala's beautiful new gallery space at 30Avenue in Inlet Beach and celebrate the art of giving with artists Velia Lala, Matt Lyons, and Marisol Gullo. You'll love the exhibits, art auction, great food and drink, and live music by Chris Alvarado.
Tickets are available online now at Food For Thought website.
V. Lala Galleries, owned by local artist Velia Lala, is the perfect backdrop for this year's Art of Giving event. The beautiful space is specifically designed to showcase various forms of art in an expansive gallery which also serves as an event venue located in the heart of 30Avenue, South Walton's newest lifestyle destinations in Inlet Beach.
 
Art of Giving | 2015 Artists
Velia Lala creates life size abstract paintings as well as unique body castings and sculptures. "I was inspired to learn the life casting process by the fascination of possibly being able to capture the inner and outer beauty of each person. The absolute beauty of uniqueness.," she says. V. Lala Galleries is located at 30Avenue in Inlet Beach. http://vlalagalleries.com/
Marisol Gullo takes old furniture to a new level with her finishing touch and enjoys creating art pieces and frames. She finds her inspiration all around her. "I find my inspiration when I see things that are trash, discarded. Sometimes the things that people overlook hold the most beauty, they just need a little love." Not Too Shabby Boutique is located in Santa Rosa Beach. http://shopnottooshabby.com/
Matt Lyons creates contemporary works on canvas with a message about people and life. Lyons, raised in the Panhandle, is "motivated to be a part of Art of Giving because I like the idea that those who have, come together to support those who have not. I like the idea that I could use my art to help spread awareness in the area where I grew up." Matt lives in Destin, Florida.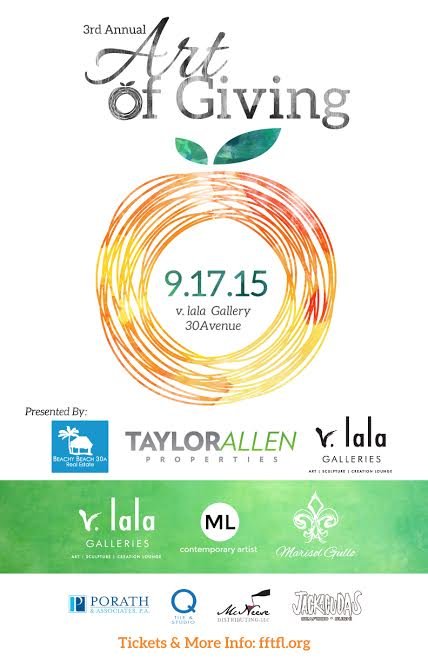 Follow Food For Thought Outreach on Facebook and join their mailing list for additional updates. For more information, please visit www.fftfl.org
Food For Thought Outreach (FFT) is a 501(c)(3) not-for-profit organization based in Santa Rosa Beach, FL that provides backpacks filled with healthy, easy to prepare food for students who are dependent on free or reduced school meals.
As Food For Thought Outreach has grown exponentially as an organization, so have their community events and fundraisers. In less than five years, Food For Thought Outreach has gone from serving 6 children at one elementary school to over 1,200 children a week across 15 elementary, middle, and high schools in two counties during the school year and recently served record numbers of families through their summer outreach programs.
Tagged
Add comment