Story
Breaking into Spring Fishing in SoWal
February 29, 2016 by Larry Pentel
Hard to believe that's it's Spring Break all ready here at the beach. I saw my first big group of (obviously out of town) kids on the beach today when we came back in from fishing. The past two months of slow time have sure been nice for all us that live here. My schedule gets pretty busy starting the first full week of March and the weather looks like it it starting to get better as well with at least a three day window of calm Gulf right now.
I have parked the mono hull "Federal boat" and am back running the catamaran , staying in State waters. My anglers today were not only treated to as pretty a day as you could ask for in February but we came in with a limit of Vermillion, limit of Trigger Fish and some Pinks as well on a half day trip. Some of the Triggers were downright huge too with one of 'em pushing 8 pounds.
The last trip offshore in the Fed boat had us running all over the Gulf to get our big Amberjacks. Looks like the Big Un's have moved past the "1/2 day trip" line 'til the water warms back up some. Different season, different fish, won't be to long 'till we are chasing Cobia again!
Speaking of seasons, the "proposed" Red Snapper season for Florida State waters is all the Saturdays and Sundays in May. Opening up continuously May 28th through July 10th. Re-opening for all the Fridays, Saturdays and Sundays in September and October , also to include Monday, labor day for a total of 78 days. This will have to be ratified at the April FWC meeting. We can only hope.... Gag (black) Groupers will open up June 1st through December! This has been voted on and is current law.
Here are some pics from the past couple weeks on the days that we could get out.....
These fine folks got a limit of Snappers with a pile more in the box on a fine February morning.
Plenty of Red Snappers around!
Nashville music star and my son with a couple hard won Amberjacks. I can't decide which one has the longer hair.... We know who caught the biggest fish though.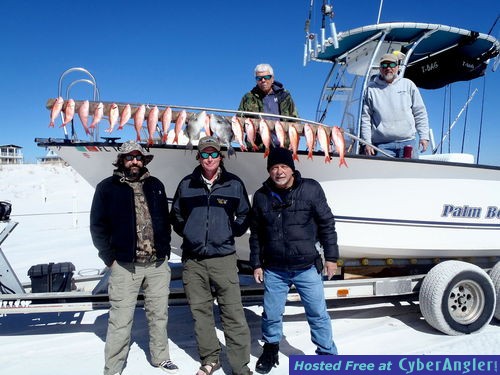 Another part of great limit of Vermillion Snapper.. can't fit 'em all the board with only 21 nails.
Did I mention there are LOTS of Red Snapper?
Tagged
Add comment