Story
Chef Jeff Stirs it up at the Lazy Gecko in Baytowne Wharf
February 12, 2012 by Bruce Collier
Jeffery Beaudoin (a.k.a. Chef Jeff) has been chef at the Lazy Gecko Deck Bar in the Village of Baytowne Wharf since early fall, but it's definitely not his first culinary rodeo. The New Orleans native (he still retains a trace of the characteristic Crescent City accent) has been work ing in and for restaurants since age 15.
Beaudoin and his employer, Lazy Gecko owner Gary Terry, met with me on the restaurant's outdoor Deck Bar on a recent weekday, just after the peak lunch hour. The Village of Baytowne Wharf was filled with workmen tearing down Halloween and putting up Thanksgiving and Christmas. Tourists moved in and out among the clusters of restaurants, some of which have closed for the season.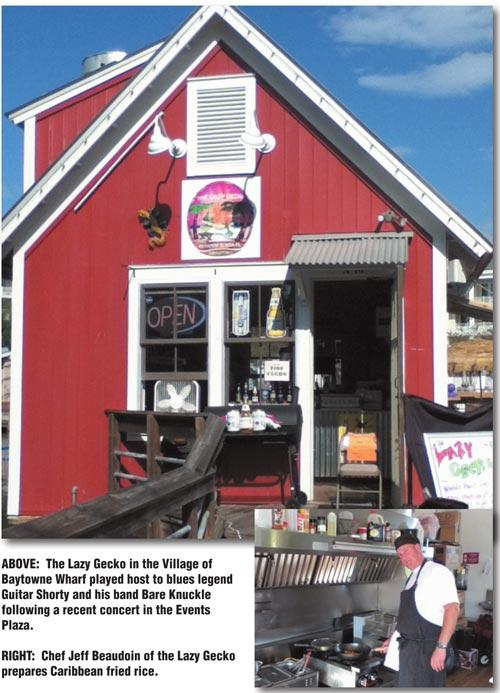 Throughout the interview, Beaudoin and Terry would occasionally answer questions and give directions or advice to passerby. Respecting the tourist is a big part of Beaudoin and Terry's business philosophy. They make it a point to stay connected, offering samples from the menu and encouraging prospective diners to give their food a try. "You can't be afraid to talk to people," they agree.
Beaudoin's background in the restaurant business included a stint working in bars and nightclubs, including some establishments in Fat City, the French Quarter, and Mississippi. Marriage led him to return to food, where he worked on the business and management side for established chains like Chi Chi's, Bennigan's, Steak and Ale, and Cracker Barrel.
After working in Meridian, Baton Rouge, and Ruston, Louisiana, he went back to New Orleans, just in time for Hurricane Katrina. He had to vacate, but eventually returned to work for the Holiday Retirement organization, earn ing his wings first as executive and then regional chef.
The Holiday Retirement gig proved to be a real education, enabling Beaudoin to travel widely in the Southeast and West. "I really got into upscale cooking," he says, recalling some of the "shindigs for the retirement communities." Among his acquaintances was Ruth Zatarain (of the spice-and-rice Zatarains), who used to bring him food and invite him for drinks and meals in her quarters, which she called "Club 109." Beaudoin's parents Toni and Jim retired to this area, where the family had vacationed since Jeff was 12 years old.
Beaudoin came, and cooked for a time at V in Seagrove. He answered Terry's ad for Lazy Gecko Deck Bar, which opened on Fourth of July of this year, and has been cooking there since September. Terry's background includes law enforcement in Baltimore, and working security in Baytowne. He and Beaudoin have a good working relationship, and Beaudoin praises Terry's openness to culinary expansion.
"Gary has been very willing to allow experimentation," says Beaudoin. The Gecko's bill of fare offers appetizers such as nachos, quesadilla and conch fritters, as well as salads, tacos and wraps. The flavors stray from the usual Tex Mex list, though, and Beaudoin offers to make up a sample of the day's special—tilapia court bouillon with Caribbean fried rice.
He returns quickly with a bowl of amazingly fragrant and colorful food. The tilapia is mild and tender, and the rice is a wake up call. I tasted Jamaican jerk flavors, fruit, sweet peppers, onions, cilantro and I don't know what else. The scent is irresistible. "There are 20 seasonings in it," says Beaudoin, revealing only a few of them. Later, he fries up a crisp mini beig net, which I did not save for later.
"If the customers like it," says Terry, who has some rice, too, "I'm all for it."
Beaudoin cooks out of a small but well organized kitchen that faces the order window. The window is open, allowing the savory aromas to float out and into the Baytowne atmosphere. He and Terry proudly note that everything is scratch made and cooked to order, and that the restaurant takes food deliveries frequently during the week, to maintain freshness.
Not a classroom trained chef (though he was chosen to work at the Culinary Institute of America's Chefs Conclave), Beaudoin comes from a family of enthusiastic home cooks, which in New Orleans means a great deal. His years in management have helped him too, he adds, because not only is it important for a restaurant chef to cook well, he has to make money doing it. Terry is optimistic about Lazy Gecko Deck Bar's prospects for success, and gives much of the credit to Beaudoin. "Jeff does a lot of extra work." Terry tries to maintain a presence at the restaurant as well.
Beaudoin's passion for food is not con fined to the workplace. Unlike some professional chefs, he enjoys cooking at home. His hobby is also food related. "There's nothing I love more than to fish," he says.
He adds, "I'm also a huge Who Dat fan. Please mention that."
The Lazy Gecko Deck Bar currently serves lunch and dinner Wednesdays through Saturdays.
Courtesy, The Beachcomber
Tagged
Add comment