Story
Fish Are On The Right Schedule
May 15, 2017 by Larry Pentel
The weather the past couple weeks has been more like what March should be than May.
We have had a lot of windy days with the breeze mainly out of the West rather than East as usual for this time of year. When it's been pretty it's been perfect but the opening weekend of Red Snapper season was anything but perfect.
Only a couple Grayton boats tried to fish on Saturday. Captain Mike of "Trigger Happy" went out and told me the next morning he felt like he had gone 10 rounds in the ring with Mike Tyson. It was rough!
Sunday morning was still bumpy but it laid down late morning enough for me to take a group out on a three-hour trip and we had a great catch. We came back in at 2 PM with it getting choppy again and by 2:30 I was real glad I was on the beach cleaning snapper rather than offshore trying to catch them!
Luckily for us the fish know the seasons better than the weather and all the critters are showing up on schedule. The bait is all over and easy to catch, the Kings have showed up to chase all that bait and the Mahi have started showing up as well. Still plenty of Vermillions around to fill the box on the weekdays when Snappers aren't open.
On the three hours we spent chasing Red Snappers we found 'em pretty easy just on natural bottom and had a couple of pretty good size ones as well. There are still a few Cobia around but they never really showed in good numbers in this part of the Gulf. I have heard some really good reports this week from over around Pensacola way but we are still just finding the odd, scattered fish here.
The beach guys have been doing good with Pompano and Whiting. I even took a rod down to the beach the other evening and caught a couple skippies along with a nice 3 pund pomp and a Whiting on a hour sunset jaunt. I gotta catch one every spring just to say I did. My son William has had some great pomp days but he still chases 'em more than once a year like me.
Here are a few pics from the past couple weeks.
Dad wanted the kids to catch a bunch so we did that first... and then went and found him a nice Cobia on this half day.
We only got two hours in on this trip before it bouncy and we came in but it was action packed.
A pile of Vermillions and 4 and a half Kings.... LOTS of sharks around.
A quick three-hour Red Snapper trip with great success!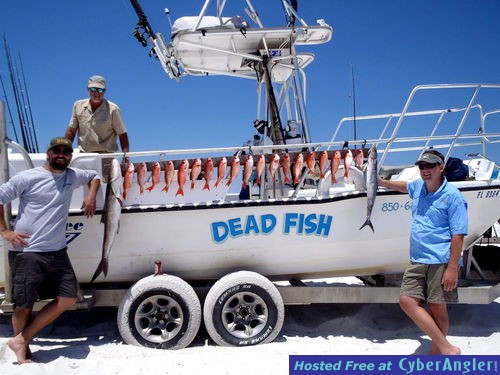 One of our local musicians and a buddy with a limit of Vermillions, a King and his first Cobia.
This local was kind enough to take his Mom and Dad out to catch a limit of Vermillions and a Scamp along with a couple nice Kings on an afternoon three hour.
That King on the left was about 30 pounds ... not bad along with a limit of snapppers.
This morning four-hour trip was part of a four-boat group that had a contest on the biggest fish.... my guys caught a limit of Vermillions and then went on to win the prize with the biggest King AND some nice Mahi.
The weather looks good this week.... get out there and catch something!
Tagged
Add comment