Story
Great Time to be Fishin' at Grayton
September 17, 2016 by Larry Pentel
It's a wonderful time to be at the beach! The last big crush of visitors from Labor Day weekend is over, there are no lines at the restaurants, Red Snapper season is open on the weekends and there are lots of other fish to catch during the week.
The fall Red Snapper season opened up for four days over Labor Day weekend with lots of folks getting good catches on the days calm enough to go. The remains of Hurricane Hermine had the Gulf a little rough for a couple days but all in all we got off easy, it didn't even rain here!
Lots of Vermillions during the week along with some Kings, Mahi, Black Snapper, Grouper etc. We even had a big Tuna on a three-hour afternoon trip this past week. The fishing should just get better and better as we head into fall with the Kings getting thicker, the bigger snappers moving in and the Groupers starting to feed more. Red Snapper will remain open on Fridays, Saturdays and Sundays through October. Florida State waters will also be open for seven more days in November! Our Governor decided that so many folks didn't get to fish with the hurricane that they could open it up a few more days in November with the additional dates being the 5th, 6th, 11th, 12th, 25th, 26th & 27th.
Here are a few of our catches from the past couple weeks.
Opening day of the Fall season. Some BIG fish on this morning four-hour trip.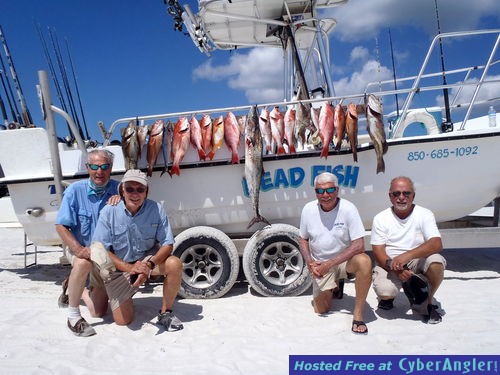 Two of my regulars and some buddies with not only some good Red Snappers but 4 and 1/2 (ouch) groupers and a big King as well.
This bunch of locals has a reputation for showing up late but getting the job done with the catch!
One of my regulars and his wife with a personal best Red Snapper.
That big Tuna was a treat. The other angler was leading the big fish contest with the Grouper and bigger Snapper till the fellow on the right got that giant in.....another bonus afternoon trip!
Weekday trips we are fishing for " M & M's " - Mackerel and Mingos. These folks got some nice ones along with some Mahi too.
Just to prove the first picture wasn't a lark.
This mornings catch. the trip was supposed to be a six hour but we got weathered out and had to come in early..... pretty nice catch for a shortened trip. We spent half the time catching and releasing big Amberjack for a "biggest fish" bet... the young man won with a 39&1/2 inch big un. His sister would have beat him but a shark got her biggest.
Calm seas, empty beaches and cooler mornings. hard to beat! See you offshore.
Tagged
Add comment