Story
Happy New Year and Old Fish
December 31, 2016 by Larry Pentel
New Years Eve here at the beach. Lots of folks in town and I was booked all week but, as usual in the winter, the weather had more bouncy days than calm. We got three trips in with two of 'em on a beautiful, calm Gulf and then again today where it was overcast, breezy and bouncy. We came in early but still had 29 fine Flounders in the box and lots of missed bites.
The Flounder bite remains strong and will probably hold up for another couple weeks. There are still plenty of Vermillion Snapper up in fairly close and lots of Pinks as well. The big ( literally!) fish coming up is the opening of Greater Amberjacks in both state and Federal waters tomorrow. The gulf looks to be little too rough the next couple days to run offshore and chase 'em but I plan on being ready for when it calms back down. I am going to go park the catamaran boat tomorrow and get the V-Hull with the Federal permit rigged and ready so we can go chase those big ol' Jacks offshore when the weather permits.
In the meantime I may get to go over to Indian pass and sight fish Redfish a couple days next week as well. I haven't had time to get there this winter and am hopeful I haven't lost the touch ! Some fresh oysters just off the bar don't sound bad either !
here are a few pics from the past couple weeks
Local Troubadour Bobby Steeno proving his song "Nothing happens 'till the Fishin' is done" was written from experience.
A big Trigger pulls hard but when you catch 'em on 12# flounder tackle it really takes a while!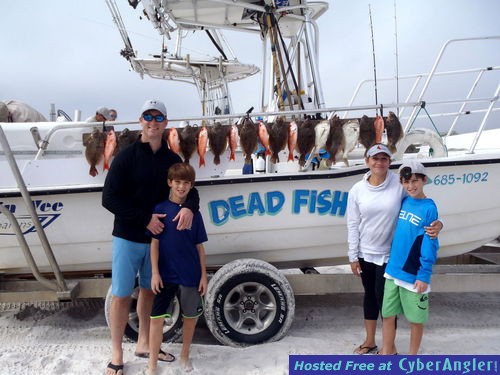 This family had a great pile of Triggers, Vermillions and Pinks.
These folks caught flatties and snappers for dinner and then wanted to grouper fish the rest of our 3 hour trip. They had 4 to bite and landed a nice Red but he was a 1/2" short of keeper.
Today's folks with part of a fine Flounder catch. I warned 'em it was going to be bouncy but they really wanted to go and persevered to fill up the box.
The "slow" season is here where we have to fish the weather windows when Mother Nature gives us a pretty day. I'll be ready to go chase any thing with fins if the chance presents itself.
Tagged
Add comment