Story
Join Florida Wildlife Corridor Expedition Trail Mixers in SoWal
February 24, 2015 by SoWal Staff
The Florida Wildlife Corridor Expedition is hiking, biking and paddling 900+ miles in 70 days across the state of Florida to establish and preserve corridors for Florida's wildlife. The Expedition team is nearly half way through the trek now with trail mixer events coming to the South Walton area on Feb. 28 and Mar. 7.
The Florida Wildlife Corridor Expedition 2015 launched in January on a new 1000-mile, 70-day long journey to highlight a wildlife corridor from Central Florida to the Gulf Coast, through the Big Bend, and across the Panhandle all the way to Alabama, where the trek will conclude.
The Expedition will host a series of Saturday Trail Mixers, where followers can join the Expedition team and participate in the trek. Events in our area coming up include a coastal dune lakes paddle at Grayton Beach State Park and a kid-friendly black bear affair at E.O. Wilson Biophilia Center.
Trail Mixer #7 - Coastal Dune Lakes Paddle at Grayton Beach State Park February 28, 1:00pm - 4:00pm Join the Expedition Team for a paddling excursion through Coastal Dune Lakes on DAY 50 of the Glades to Gulf Expedition! This event is being sponsored by Yolo Board.  This paddling trip is self-supported, so you must arrange your own watercraft. Paddle boards, canoes, and kayaks are all welcome. For canoe rentals, please contact the Grayton Beach State Park at (850) 267-8300. This trip is limited to 50 people, so please RSVP here: www.eventbrite.com/e/trail-mixer-7-coastal-dune-lakes-paddle-tickets-15799092511.
Trail Mixer #8 - "Black Bear Affair" at E.O. Wilson Biophilia Center March 7, 2015, 10:00 a.m. - 4:00 p.m. Join the Florida Wildlife Corridor Expedition team and the E.O Wilson Biophilia Center for a fun, kid-friendly "Black Bear Affair"! Tour the interactive nature center, take a guided hike, and join in on bear themed arts and crafts, such as casting bear tracks! Trail Mixer Location: E.O. Wilson Biophilia Center (4956 Florida 20, Freeport, FL 32439). For more information on the E. O. Wilson Biophilia Center, please visit their website: www.eowilsoncenter.org. Please note: The E.O Wilson Biophilia Center charges a general admission entrance fee: $8 Adults, $5 Children, 2 and under are free.  

E.O. Wilson Biophilia Center in Freeport, Florida
The Florida Wildlife Corridor integrates Florida's leading conservation science with compelling images and rich storytelling to raise awareness about the Corridor and the need to connect and protect it. Follow the expedition blog on National Geographic where the team is committed to bringing the expedition to life. You can also follow the expedition on facebook (Florida Wildlife Corridor), twitter and instagram: @FL_WildCorridor. #GladestoGulf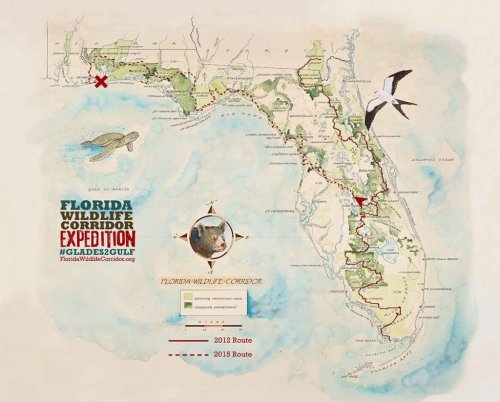 The Florida Wildlife Corridor is devoted to advancing a statewide network of wildlife corridors in order to ensure the long-term survival of wildlife, the health of life-sustaining freshwater flows and the continued vibrancy of Florida's rural way of life. Conservationist Mallory Lykes Dimmitt, Biologist Joe Guthrie and Photographer and National Geographic Explorer, Carlton Ward Jr. will make the journey from the Everglades Headwaters in Central Florida, across the Panhandle to the Alabama border.
The trek will show a side of Florida that not many people, including Floridians, get the chance to see. With eleven thousand miles of rivers, 27 springs, and nearly eight thousand lakes larger than 10 acres the Expedition team is taking the road less traveled by traversing the state as native Florida species do.
The Florida Wildlife Corridor encompasses a 15.8 million acre opportunity area of minimally developed land. The Corridor team and partners advocate for the protection of the "missing links" of the Corridor, estimated at roughly two million acres of highest priority lands still in need of protection to ensure the long-term viability of the Corridor. The Corridor provides habitat for 42 federally listed endangered species and 176 state listed endangered species. Some endangered species include the Whooping Crane, Florida Panther, West Indian Manatee, Green Turtle, Leatherback Turtle, Hawksbill Turtle, Gulf Sturgeon and many more. 
Add comment