Mac Farms Featured on Emeril's Florida
January 29, 2013 by Susan Benton
Emeril's Florida, a show on the Cooking Channel, highlights the Sunshine State through the eyes of Emeril on-location with a focus on food, cooking, events and activities.
This week features local farmer Jen McAlexander, owner of Mac Farms in Santa Rosa Beach! Throughout the series, Emeril will travel Florida and visit the state's top restaurants and resorts,also preparing some of his favorite recipes, which often will feature some of the best Gulf Coast seafood Florida has to offer.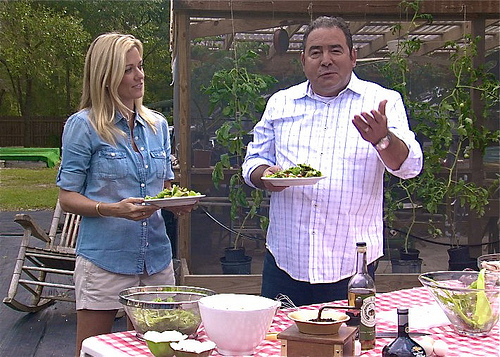 A Mac Farms salad & oil tasting with Emeril and Jen McAlexander
In the episode, local farmers are featured. In the Florida agriculture segment, Emeril starts off in Miami, and  then he tours Mac Farms in Santa Rosa Beach. Afterwards, he travels to Fort Piece to attend a cattle auction at the Adams Ranch. Finally, he and Chef Justin Timineri from the Florida Department of Agriculture prepare steaks and fresh vegetables together.
Emeril on tour of Mac Farms with Owner & Farmer Jen McAlexander
 
Jen telling Emeril all about Mac Farms Hydroponics
Tagged
Add comment