Story
Meritage Spa Grand Opening in Miramar Beach Aug 28
August 28, 2014 by SoWal Staff
Coastal Skin Surgery & Dermatology announces the opening of Meritage, a new medical spa connected to their dermatology practice in Miramar Beach, Florida.
A grand opening event will take place at Meritage Spa located at 12469 Emerald Coast Parkway - Suite 102 in Miramar Beach on Thursday, Aug. 28 beginning with a Walton chamber ribbon cutting event at 5 p.m. followed by an open house from 5:30-7:30. The open house will feature live music played by Sinfonia, hors d'oeuvres, special spa pricing, facial consultations and more.
Now open for appointments, Meritage Spa, which prides itself on blending the best of beauty and science, will provide guests with state of the art spa and aesthetic services. Advanced technology and medical grade skin care lines such as Neocutis, PCA and EltaMD will be used by the aestheticians to provide clients with personalized, innovative treatments.
Some of the services that will be offered include massages, facials, peels, make-up application, brow and lash tinting as well as waxing services. Highly trained, experienced and licensed massage therapists and aestheticians will customize each spa experience to the guests needs.
Dr. David C. Adams, owner of Meritage Spa and Coastal Skin Surgery & Dermatology, believes that adding a spa component to the practice will not only offer guests an unparalleled spa experience in the area, but also further assist individuals with skin care needs that are being treated within the dermatology office.   
"We are thrilled to open Meritage Spa, a place our patients and clients can be treated with state of the art skin care techniques and technology in a serene environment," said Adams. "This addition to our dermatology practice is the perfect component to assist us in continuing to treat all of our patients with the best skin care services possible."
Coastal Skin Surgery & Dermatology is a premier dermatology practice on Florida's Emerald Coast devoted to providing the most advanced surgical, medical, and cosmetic treatments for skin. They offer a broad variety of state-of-the-art procedures to maximize skin's health, keeping it healthy and looking its best. Coastal Skin Surgery & Dermatology's highly trained staff is committed to providing the most comprehensive dermatological care to patients of all ages, focusing on individuals concerns and needs.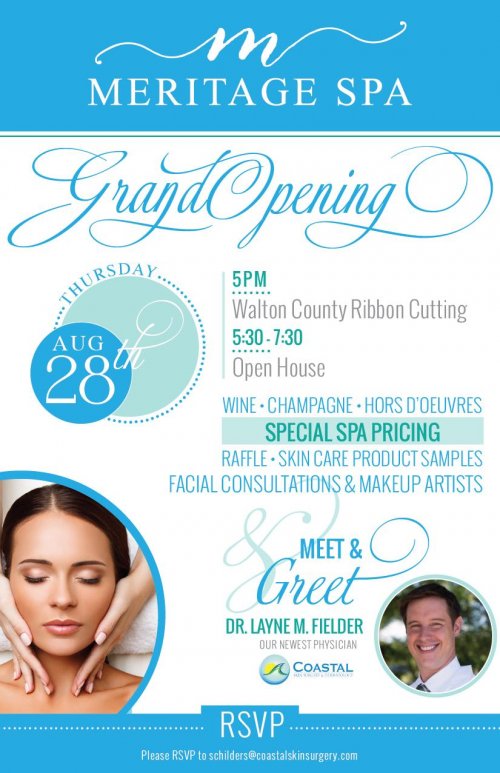 Tagged
Add comment