Story
Sandcastle Escapes Launches Pay It Forward Campaign
July 23, 2013 by SoWal Staff
Sandcastle Escapes Vacation Rentals is happy to announce the release of the Sandcastle News and the launch of an exciting 'Pay it Forward' campaign, an initiative the company hopes will kickstart a community wide do-good movement. As part of the campaign, Sandcastle Escapes Paperboys will be bicycling along designated routes throughout the beach neighborhoods of South Walton and Destin, spreading positivity to locals and beach visitors.
The concept of 'Pay it Forward' is asking the beneficiary of a good deed to repay it to others instead of to the original benefactor. Throughout the summer, the Sandcastle Escapes Paperboys will be roaming South Walton and Destin delivering the Sandcastle News newspaper while also doing good deeds, and spreading warm, southern hospitality.
Paperboys will also be handing out gift cards and goodies from a variety of local businesses, including The Walton Sun Newspaper, 30A.com, 30A Life, Amavida Coffee, The Seaside REP, Silver Sands, 723 Whiskey Bravo, Fudpucker's, and Publix.
The campaign focuses on the company's brand values of social responsibility and giving back to the community. "We are hopeful that we can attract all of the community, visitors, local residents and businesses to participate and embrace the concept as well. Everyone could use a little 'pay it forward' in their lives, whether they are on the receiving end, or the giving end", said Taylor Williams, President of Sandcastle Escapes.
 
Sandcastle Escapes invites everyone to join the 'Pay It Forward' efforts by following the newspaper boys journey and sharing their sightings. A map of the newspaper route can be found in Sandcastle Escapes' social media sites (Facebook, Twitter, Instagram) where everyone is also encouraged to use the hashtag #payitpaperboy to share their sightings, good deeds and experiences.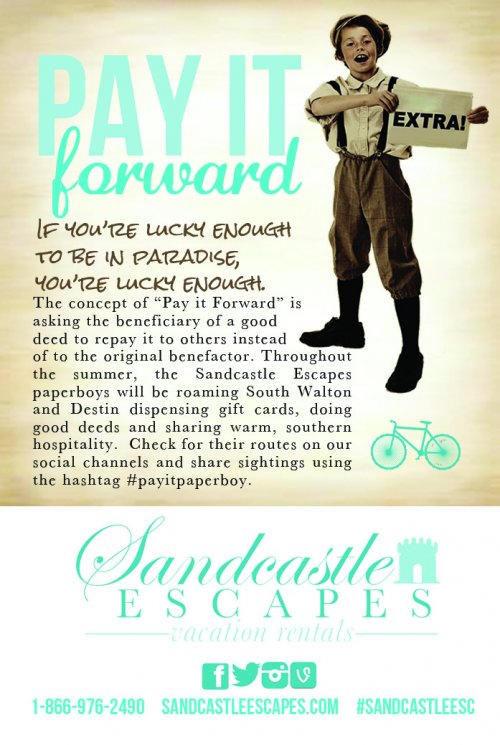 Tagged
Add comment