Story
SoWal Snappers All Summer
August 3, 2015 by Larry Pentel
I know it's been a while since I've posted a report but we've had lots of nice weather and I've been running hard. I took this afternoon off - no fixin' and repairing, no trip to the tackle store, boat supply or bait shop.
When I got done with the boat from this morning's trip I took a two-hour nap and now I am writing this fishing report. All the 14 hour days are starting to wear on an old guy! Gotta stay on top of my game. I have about nine more days here in Grayton/Seagrove and then I am off to Indian pass to chase Tarpons and Tripletails for a few weeks.
The Vermillion Snappers have stayed abundant all summer so far. Not only have there been lots of 'em but the grade has been bigger than average as well. While they may not get as big as their more famous cousins, Red Snappers, I think they actually taste better and we get to keep ten of 'em per person instead of just two.
Makes for a lot of good catching (and eating later) when you can catch 40 snappers on a half day! Lots of Pinks as well, the King bite has gone kinda spotty... we catch a couple one day and none the next.
There are still quite a few Scamps with probably a third of that species being legal right now. The most fun bonus fish the past couple weeks has been the Mahi. While we don't see 'em every day we have run into lots of schools of anywhere from 2 to 200 fish. They have got to be the most beautiful fish in the Gulf. I wonder where the batteries go to power all those color changes they go through as they jump and run.
Here are a few of my happy anglers from the past couple weeks with proof they can turn the handle.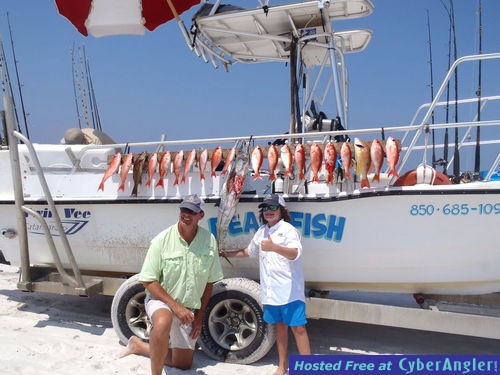 Not only did my ace 8 year old angler outfish Dad on the Vermillions he pretty much caught that big King with just a little fatherly help.
King, Mahi, Vermillions, Scamp.. plenty to smile about!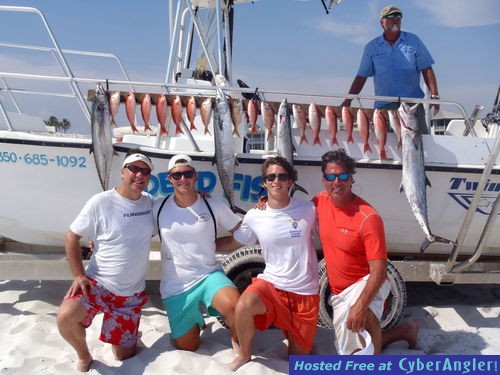 Fine Kings and lots of Snappers.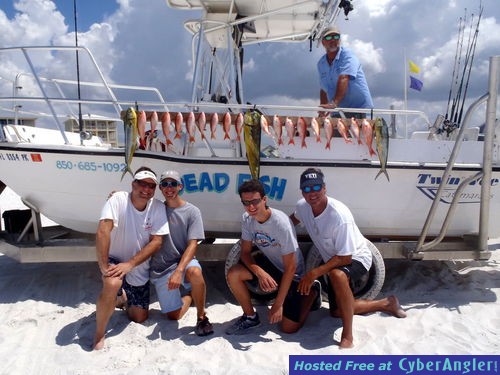 Mahi and Snappers with plenty more in the box.
We caught those 7 Mahi first thing. That big scamp was an even better bonus along with the Snappers.
This young man and his dad wanted a shark... that was it, nothing else would do.. They boated the 3rd one they had on this afternoon and it was a fine Bull.
These folks got a big Cobia for a bonus fish on a morning half day.
I made these folks stop at 16 mahi..... they all ready had 40 snappers in the box!
Lane snapper, Mahi, a couple Kings (that one is Big !) along with a pile of Vermillion.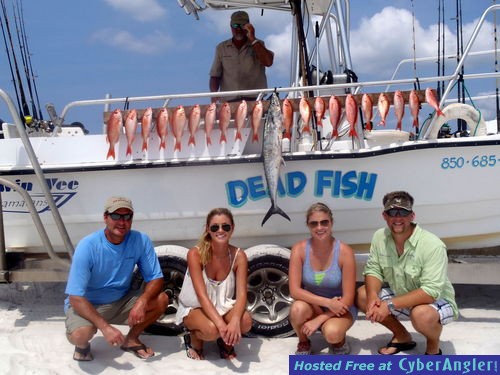 Yet another big King for a bonus with a bunch of snapper.
Hopefully these snappers will stick around for rest of the month. They seem to be just about everywhere so it should be fairly "easy fishin'" for a while longer. There is plenty of baitfish up in close so the Kings should reapear in force any day again.
With all the flying fish and school Mahi in close we should start seeing a few bigger Mahi and maybe a wahoo or a few sails in close as well. Capt Tyler had a BIG sail last week right in front of Grayton and I heard of a kayak angler hooking up last week as well. I'm gonna try to keep filling up the box here 'till I get to chase BIG fish for a few weeks and then come back here to the weekend red Snapper season in September & October.
So many species... so little time to chase 'em all.
Tagged
Add comment