Spinach Costa del Sol Is A Holiday Tapas Treat
December 9, 2011 by Susan Benton
The last time I visited Spain was about five years ago, and it seems
like yesterday. I was fortunate enough to have my mother and two
children on the adventure. We started in Madrid, a city that I fell in
love with immediately. The local cuisine, tapas bars, architecture, and
history drew me in like a moth to a flame. My daughter just wanted to
shop.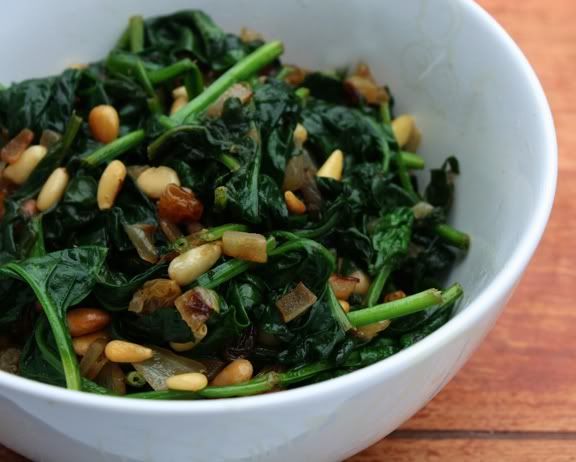 After Madrid we visited Toledo, Granada, Seville, Costa Del Sol
and Gibralter. Passionate about food, I was always searching for the
next best tapas bar where I could soak up the sights and savor the
flavors of each destination. I had more energy in Spain, and stayed out
late as the locals did, mainly because they didn't begin dinner until
nine in the evening.
Tapas are a variety of small savory Spanish dishes, often served as a
snack with drinks, or with other tapas as a meal. They are served in
nearly every bar throughout Spain. Tapas are often eaten as an appetizer
to a bigger lunch or dinner, but in Seville, people actually make a
meal out of them, moving from bar to bar until they are full. To
"tapear", means going from bar to bar for drinks and tapas. It is an
essential part of the social culture of Spain, especially in the south. 
In most tapas bars you will see traditional cured hams hanging from the
rafters, and many bars are decorated with posters for bullfights,
Semana Santa (holy week) and the Feria de Abril (spring fair). Look for
bars that are full of locals – they will probably have the best tapas.
The word "tapa" translates to "lid". The popular small plates are said
to have begun in the taverns and bars of Seville and Andalucia when
little dishes were placed on top of wine glasses to keep fruit flies
out. It was also the custom for agricultural and other manual workers to
eat small snacks so that they could continue working until the main
meal of the day.
Below is a recipe for a popular Spanish side dish. It is excellent on
it's own as a tapas, but would be delicious paired with your
Thanksgiving turkey, or Christmas roast. I think having a tapas holiday
meal is a fabulous idea, but I am not sure it would be embraced by my
traditional southern family. This dish contains crisp seasonal apples,
plump raisins, pine nuts and lemon zest to boost the greens appeal, and a
spoonful of dry sherry delivers a taste of Spain in every bite.
If you are wanting to experience the best tapas bar on 30A, then look no further than La Crema Tapas and Chocolate, located in the beautiful Rosemary Beach, Florida. Whether a local, or a visitor to South Walton, Kevin, Kim and their culinary team will delight your taste buds with
their daily creations, taking you on a gastronomic journey through Spain, where you will want to linger.
Yield: 4 servings
Cook Time: 10 minutes
Ingredients:
1 cup water
1/4 cup raisins
1 tablespoon California Olive Ranch Reserve olive oil, or extra-virgin
1/2 medium Granny Smith apple, diced
1 tablespoon finely chopped shallot
1/4 cup pine nuts, toasted
1 tablespoon dry sherry
1 pound baby spinach
Kosher salt
1 teaspoon fresh lemon juice (from about half a medium lemon) note: meyers are in season!
Finely grated zest from 1 medium lemon
Preparation:
In a medium saucepan, bring the water to a boil. Turn off the heat
and add the raisins to the hot water. Set aside to rehydrate until
plump, about 5 minutes. Strain the raisins and set aside on paper towels
to drain.
In a large skillet set over medium heat, warm the olive oil. Add the
apples and cook gently until they're soft but still retain their
texture, about 3 minutes. Add the raisins, shallot and toasted pine
nuts. Cook until the shallot is soft and translucent, about 2 to 3
minutes. Add the sherry and spinach, tossing to coat. Season with salt
and lemon juice and immediately remove the skillet from the heat before
the spinach is completely wilted.
Use a pair of tongs to remove the spinach from the pan and place in a
serving dish, leaving any water behind in the skillet. Top the spinach
with the lemon zest and serve immediately.
Note: For November Meyer Lemons, visit Dragonfly Fields at The Seaside Farmers Market.
Tagged
Add comment