Story
Summer Time is Snapper Time
June 12, 2017 by Larry Pentel
Red Snapper are the main item on just about everybody's fishing list this time of the year.
We are catching a few Groupers, Kings, Vermillions, Mahi, etc., but the main target and desire for most of my anglers are those coveted big Red Snaps. While there do not seem to be a record number of Red Snappers around there have been more than a few really nice ones and some that by any standards are just plain big.
I have had to hit a lot of spots someday's to get a limit but just about every trip we get a few of those "monster" bites. Now, getting the bite and landing the fish are two very different things in any fishing endeavor but we have had quite a few braggin' rights fish hangin' on the board so far this month.
Most trips have a good assortment of other critters as well. The only thing missing are the Triggers. Not missing from the gulf or from being caught, we are catching a bunch of 'em and they are big. Just missing from the board and the dinner table. I sure hope the State gives us a season this fall. The Feds may have their own agenda but they sure can't use the line that aren't many out there to justify the year and half closure!
Here's some pics of fine folks with equally fine catches from the past two weeks...
That Black Snapper was so big it even made the camera look twice!
A great mixed bag of snapper, shark, scamp, king and a black snapper. Not bad for a 3 hr afternoon trip!
Limit Jacks and Red Snapper. That'll wear your arms out.
This family got weathered out on the afternoon they were supposed to fish so they stayed an extra 3 days to get this trip in on beautiful, calm afternoon.
Limit red snapper and a BIG gag!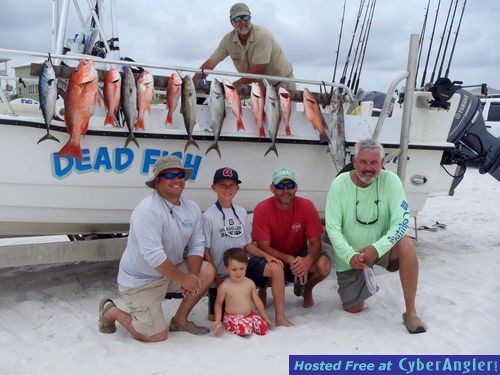 Another long time vacation fishing family at Grayton with a big snapper on a 3 hr.
These folks had never been off the beach at Grayton before. They were having a blast and all ready talking about coming back when that Mahi hit.... they reserved for next year all ready.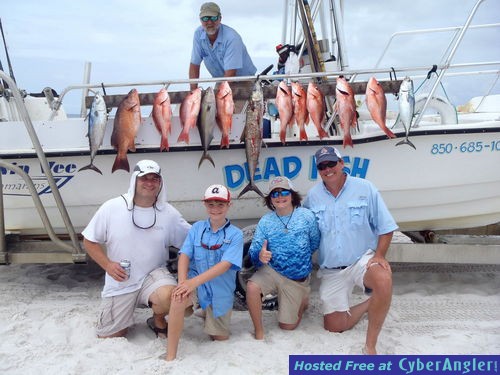 My ace jr angler brought one of his buddies (and dad) for his first time. The new kid had it down by the end of the trip but my 10 year old pro caught that big black Snapper by himself.
It's Summer! get out there on a pretty day and catch something!
Tagged
Add comment