Story
Warming up the Gulf Fishing
May 1, 2018 by Larry Pentel
It's a beautiful, warm, calm, sunny day and I am on the hill. My charter had to cancel last minute so I am doing boat chores. I told my wife it's just too nice for me to fish, I go when it's chilly or bouncy or overcast.
We have had a lot of chilly this spring, the Gulf water has just now finally hit 70 degrees. The cooler water has the fish migrations off by several weeks. The cobia have been very few and far between and I just started seeing a few Kings this week. The bait showed up this week though in good numbers so the predators will be close behind. I am hoping the Kings go on a big feed next week with the current warming trend. The cooler temps have kept the Pompano bite red hot for the past several weeks for all the shore bound folks with LOTS of limit catches by even the inexperienced anglers so that has been a plus.
Out on the reefs we are still catching Lots of Triggerfish all though the smaller fish have taken over a lot of spots. Vermillion snappers are still the go to critter to fill the box with lots of limit catches. Plenty of Red Snappers and a few Gag groupers around for a good photo op after a hard fight. Always a surprise fish, whether it's a sea bass, scamp, mahi or who knows.... part of what makes our fishery so great.
The spring break crowds have left and this past week had the beach almost empty and no lines at the grocery or the restaurants. The weather's getting perfect and we all get another couple weeks of "easy" before the summer season hits!
Here's a few pics....
Yesterday afternoons 3 hr trip with part of a limit of Vermillions & Triggers along with a bonus Scamp grouper!
Spring Breakers with a great family fun pic.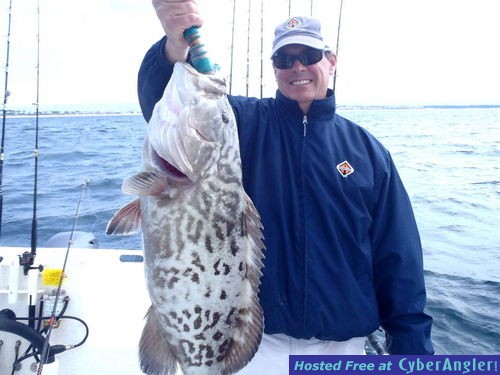 One of my regulars with a big smile for a big Gag right off the beach.
More 'breakers with a pile of Vermillions and Triggers & bonus Black Snapper.
This vacationing family had a BIG Spanish for a bonus fish.
These guys caught the 1st King in Grayton this year along with their limit of Triggers and vermillions.
Amberjack open up in both State and Federal water for the month of May. Red Snapper open June 1st for federally permitted boats and June 11th for the general public. Looks like I'll be driving the federally permitted V-hull a lot the next 2 months! I will miss the 1st couple days of Amberjack season. I am taking a bus drivers holiday and going on a 24 hr Tuna trip along with my son and some friends next week. We have chartered somebody else to run out to the 100 mile rigs and try to catch 'em at night on heavy spinning tackle. Current forecast is SE 15 to 20 knots and 4 to 6 ft seas for the NW central gulf so it'll probably be pretty nautical!
Tagged
Add comment