Story
Welcoming 30A Eats as a SoWal Partner
December 14, 2011 by SoWal Staff
We're thrilled to have Susan Benton of 30A Eats as a SoWal contributor and partner. Anyone who has been on our site lately, or on facebook, has noticed that Susan has been a whirlwind of activity.
The local cuisine scene is so active we needed someone who could help us keep up with news and features, and Susan is such a delight to work with. Someone who really appreciates how blessed we are with so many fine restaurants and chefs along our beautiful beaches.
Since enrolling her daughter at the University of Alabama, and because her son is now a Senior at SoWal High, she has more time to devote to her intense passion - food and dining. She recently celebrated the launch of her awesome blog - 30AEATS.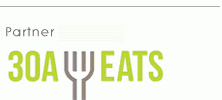 While Susan will cover any food-related story, anytime, and anywhere - her focus will be on the local scene. Look for all kinds of good stuff from Susan coming up on SoWal.com. Welcome aboard Susan!
Tagged
Add comment