South Walton Beach Rules and Safety Information
Flag Warning System - current flag conditions are posted daily each morning and afternoon at www.swfd.org. For current conditions and flag updates text "SAFETY" to 31279.
What is the Beach Flag System?
The beach flags provide general warnings about overall surf conditions and do not specifically advise the public of the presence of rip currents. However, increasing awareness of natural conditions which pose a significant risk at the beach, such as rip currents, is a critical element to improve public safety. Florida's beach warning flag program uses flags in four colors accompanied by interpretive signs along the beach to explain the meaning of each color.
GREEN: LOW HAZARD - Calm Condition, Exercise Caution
YELLOW: MEDIUM HAZARD - Moderate Surf and/or Moderate Currents
RED: HIGH HAZARD - High Surf and/or Strong Currents
DOUBLE RED: WATER CLOSED TO PUBLIC
PURPLE: Marine Pests Present
The importance of obeying the flag warning system is due to powerful rip currents that occur along the gulf coast. The double sand bar topography of this region creates dangerous rip currents. These currents form when there is a break in the sand bar, which creates a narrow path of water that rushes out to sea. Swimmers in this path will suddenly feel themselves being pulled away from shore. They may panic, resist the current and try to swim back to shore; however, it is nearly impossible to swim against this powerful current.
Walton County uses the official flag warning system established by the Florida Department of Environmental Protection. The flag colors signify surf conditions. If red flag conditions are present, knee deep is too deep, so cooling down is limited to the waters edge. When double red flags are flying, the water is closed for swimming. The purple flag is added when marine pests are present and swimmers should watch out for jellyfish.  Current flag conditions are posted at 9 a.m. and 1 p.m. daily at www.swfd.org.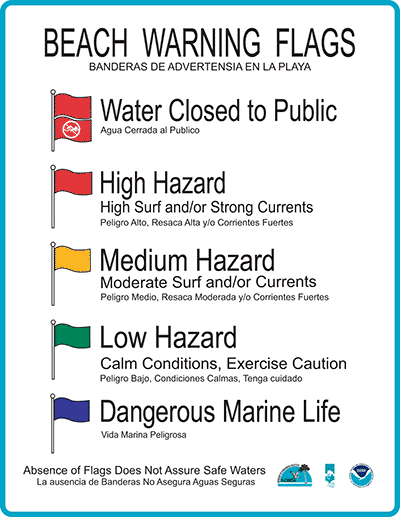 How to Identify a Rip Current
Darker color surf, indicating deeper water
Murky brown water caused by sand stirred up on the bottom
Smaller unorganized waves, alongside more evenly breaking waves over a sand bar
Waves breaking further out to sea on both sides of the rip current
How to Help Someone Caught in a Rip Current
Find a lifeguard
Call 911
Do not enter the water, you will get caught in the current
Throw a flotation device
Don't lose sight of the victim
What To Do If You Are Caught in a Rip Current
Don't panic or swim against the current
Relax and float with the current until it weakens
Swim parallel to shore and back in
 
Go to an Access With a Lifeguard - Click here for a list & map of all Walton County Beach Accesses
By enjoying the beach where lifeguards are present, beachgoers are provided added safety under the watchful eye of a trained professional. Lifeguards are provided by South Walton Fire District and funded as a part of the Visit South Walton Safety Program.
Lifeguards are stationed at various main beach accesses across South Walton. These beach accesses also have parking and restroom facilities. From 10 a.m. to 6 p.m., lifeguards will be present at these beach accesses: Inlet Beach, Santa Clara, Van Ness Butler, Jr., Grayton Dunes Access, Blue Mountain, Gulfview Heights, Ed Walline, Dune Allen, Fort Panic, and Miramar Beach.
 
Do Not Dig Holes More Than a Foot Deep
Every year toddlers and kids die from suffocation after holes and tunnels collapse and trap them. Even small holes should be filled in when you leave the beach. Holes cause injury to people walking on the beach at night and can also impede, and even trap and kill sea turtles trying to nest.
 
Tips for Beach Safety
Don't dive in to the gulf (2/3 of catastrophic neck/head/ spinal injuries occur in open water and the sea)
Know before you go (know the meanings and obey the flag warnings)
Knee deep is too deep on red flag days
Take frequent breaks (every hour take a sun, bathroom or water break)
Look but don't touch (call local authorities to help injured/stranded animals)
Go with the wind (individuals, especially children, tend to take the course of least resistance—follow the wind to find someone who is missing from your group)
Be cautious and swim close to shore
If you see lightning, leave the beach immediately 
Occasionally the Gulf has periods of Red Tide - learn more at http://SoWal.com/red-tide.
 
Beach Of South Walton Rules
No glass containers on the beach
No littering
No swimming or wading on days when a double red flag is flying
No dogs on the beach, unless resident with a valid permit during approved hours
No vehicles on the beach, except within designated area in Grayton Beach for residents with valid permit
No camping on the beach
No excessive noise
No open fires on the beach without a permit
Removal of sand or water from the beach is strictly prohibited
No weddings or events on the beach without permit
Personal belongings left on the beach overnight will be removed and discarded
No tents larger than 10' x 10' on public beach
No charcoal grills are permitted on the beach, propane grills may be permitted if 16" x 20" or smaller.
Removal of sand, water or vegetation is strictly prohibited.
Keep off the Dunes. Dunes take a long time to build. They are both fragile and strong. Dunes are critical for protecting our environment and property.
State Statutes
Unlawful to pick sea oats.
Keep off the dunes.
Indecent exposure (nudity) prohibited.
Federal Regulations
Marine mammals are sometimes found sick, injured, or dead along our beaches. They can also become entrapped or disoriented and unable to return to their natural habitat without assistance. These events are called strandings and require investigation by trained Southeast Region Stranding Network 24-hour hotline 877-WHALE HELP (877-942-5343)  or Emerald Coast Wildlife Refuge (850) 650-1880.

• Respect wildlife
Observe wildlife from a distance, especially nesting sea turtles.
• Be considerate of other visitors
Avoid loud music or noise—let nature's sounds prevail.
• Don't Leave Holes
Fill in any holes you dig including holes left from sticking poles and beach umbrellas into the sand. This ensures others don't get injured and you don't create obstacles for nesting sea turtles.
• Dispose of trash properly
Place trash, cigarette butts, waste and other litter in one of the 470 trash receptacles along the beaches.
Beach Bonfire Guidelines
You must get a permit and pay a fee, and of course clean it all up! Call SoWal Fire District at 850-267-1298 to obtain a permit and learn about guidelines for having a bonfire on the beach - http://swfd.org. 
Who can get a vehicle Beach Permit?
The ordinance allows Walton County resident real property owners and registered voters, who hold a permit as of the adoption of ordinance 2011-57, to renew their permits provided all other requirements are met. The ordinance also allows for an additional 150 permits to be issued via a lottery.
Observe & Protect Our Natural Environment
• Bring a bag to collect trash when walking along the beach
• Be sensitive to nesting turtles and birds • Use turtle-friendly flashlights when walking along the beach at night (flashlight covers are available at the TDC Visitor Information Center) • Leave the dunes undisturbed • Take an eco-tour with one of the area's Nature-Based Certified Outfitters 
Get involved
• Participate in one of Beaches of South Walton's annual Coastal Clean Up days (July and September)
• Donate or volunteer with one of the local environmental organizations such as South Walton Community Council, Cultural Arts Association, Choctawhatchee Basin Alliance or South Walton Turtle Watch - find out more at http://SoWal.com/groups-organizations
• Spend an hour or two to help maintain and preserve the grounds at Wesley Mansion by volunteering through the Friends of Eden.
Leave No Trace
The scenic beauty of our area can only be maintained through a commitment by residents and visitors. By being environmental stewards and ensuring that each of us "Leave No Trace" when enjoying recreational activities along the area's beaches, waterways and natural lands, we help to protect and preserve this destination while ensuring everyone is afforded the same pristine experience.
"Leave No Trace" is an international program that guides outdoor enthusiasts in their decisions to reduce their impacts while enjoying recreational activities. To follow are some of the guiding principles that can be adopted by residents and visitors to Beaches of South Walton:
Travel on Durable Surfaces – Stay on established trails and use dune walkovers to avoid damage to vegetation, which will lead to erosion.
Dispose of Trash Properly – If you carry it on, carry it off, including all trash, cigarette butts, waste and other items litter our natural areas. Beach chairs and umbrellas create hazards when left on the beach overnight.
Respect Wildlife – Observe wildlife from a distance, especially nesting sea turtles.
Be Considerate of Other Visitors – Avoid loud music or noise—let nature's sounds prevail; If you dig holes, be sure to fill them in so others do not get injured.
We hope you will join us in the "Leave No Trace" program and leave our natural lands as pristine as when you arrived.
 
Leave No Trace FAQ
What is Leave No Trace? Leave No Trace is an international program that guides outdoor enthusiasts in their decisions to reduce their impacts while enjoying recreational activities.
Walton County ordinance. 2003-07G states personal items including beach chairs, umbrellas, tents and other personal items left on the beach and around public beach accesses overnight (from one hour after dusk to one hour after sunrise) will be removed, unless otherwise permitted.
Why did Walton County enact this ordinance? The beach ordinance was enacted due to the need for emergency vehicles to navigate the beach more safely and to protect wildlife such as nesting sea turtles (May - November). The Florida Department of Environmental Protection and the Florida Fish and Wildlife Commission are mandating to coastal counties that obstacles on the beach at night should be prohibited. This is in effect at other Florida beaches and is being more strictly enforced because of the large decline of turtle nests being recorded.
We appreciate your assistance in keeping SoWal beaches clean for nesting sea turtles and the safety of beachgoers.