Story
It's a Spring Thing at Camp Helen State Park April 6
April 2, 2013 by SoWal Staff
The Third Annual "It's a Spring Thing" event takes place April 6 from 10am-2pm at the beautiful location of Camp Helen State Park, and is presented by the Department of Environmental Protection, the park and Friends of Camp Helen State Park. The event is a fun, interactive experience that promotes a variety of activities and resources available in Walton County, Bay County and the surrounding areas.
Multiple agencies and area businesses will have interactive and informative booths set up with the emphasis on educating visitors about the many opportunities available to discover and appreciate the natural and cultural resources that are found here.
Live music will be provided by Lucky Mud, and food and refreshments will be available.
Park entrance fees will be waived for participants.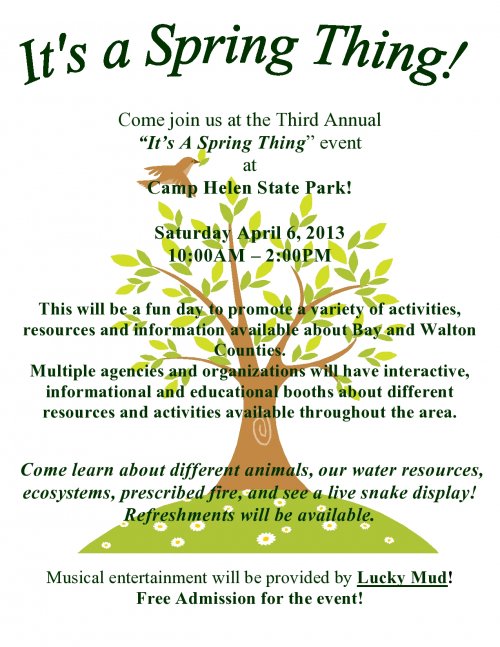 About Camp Helen Camp Helen State Park is bordered on three sides by the Gulf of Mexico and Lake Powell, one of the largest coastal dune lakes in Florida. Coastal dune lakes are extremely rare worldwide; in the United States they occur only along the Gulf Coast. Prehistoric middens and mounds indicate that humans lived in the area more than 4,000 years ago. From 1945 until 1987, Camp Helen was a company resort for employees of an Alabama textile mill and some of the buildings are now being restored. Natural areas range from coastal dunes and salt marshes along the Gulf to freshwater wetlands and sand pine scrub along the lake. Activities include swimming, beachcombing, nature study, hiking, and both freshwater and saltwater fishing. 
Camp Helen State Park is located at 23937 Panama City Beach Parkway, on the eastern border of Inlet Beach, just before the Phillips Inlet/Lake Powell Bridge.

Tagged
Add comment