Story
One Size Fits All Art Show Opening Reception at Bayou Arts Center Oct 2
September 24, 2015 by SoWal Staff
The Cultural Arts Alliance of Walton County (CAA) extends an invitation to the "One Size Fits All" exhibit and opening reception held at the Bayou Arts Center on Friday, October 2 from 5-7pm. Come out to meet the artists of original works on display and enjoy the evening on Hogtown Bayou in Santa Rosa Beach.
"One Size Fits All" is an annual exhibition that showcases CAA member artist works as part of the A+ Art Series. The artist exhibit will run through December 14. The opening reception is open to the public at no charge.
Over one hundred 10" art panels will be the "stars" of the evening. An exclusive selling event, each panel will be priced at $100 to anyone who would like to purchase. Panels have proven to be excellent gifts and fantastic investments considering the level of talent and well-known artists from Walton County participating in the exhibit.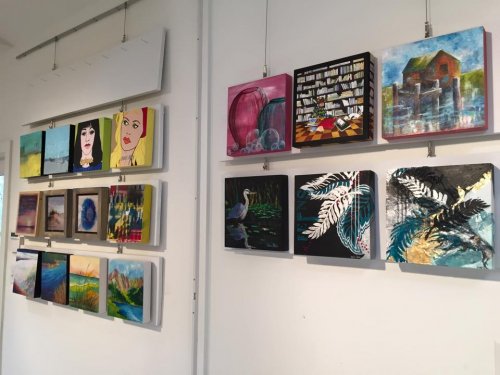 A few of the One Size Fits All art panels at CAA's Bayou Arts Center 
 
All artists were encouraged to "think outside the box" by show coordinators Katherine Duda and Andrea Scurto. 
"Attendees can expect to be highly impressed by the variety of art complimented by the beauty of Hogtown Bayou," says Andrea Scurto. In addition to the artistic talent, attendees will enjoy live music, beverages and tasty hors d'oeuvres by Cowgirl Kitchen Catering.
Come out to the Bayou Arts Center for this wonderful artist exhibit/sale. The Bayou Arts Center is home of the Cultural Arts Alliance of Walton County and a venue for art exhibits, art workshops, meetings, reunions and small events. Nestled among the long leaf pines on historic Hogtown Bayou, Bayou Arts Center is a true Walton County hidden gem and a peaceful destination for art, culture, heritage and nature.
 
Bayou Arts Center is located at 105 Hogtown Bayou Lane, Santa Rosa Beach, FL (from Hwy 98 go north on County Rd 393).
 
A+Art, a committee of the Cultural Arts Alliance (CAA) of Walton County, showcases member artists' work in public places throughout Walton County throughout the year. For more information, email aplusartcaa@gmail.com, call the Cultural Arts Alliance at 850-622-5970 or follow A+Art on Facebook.com/APlusArt.
The Cultural Arts Alliance of Walton County (CAA) is a Local Arts Agency that supports the arts through leadership, advocacy, funding, programs and education. The vision of the CAA is to be the catalyst for Walton County's growth as a destination for cultural and artistic excellence through which lives are enriched, economy is stimulated and community is strengthened. Support the arts in Walton County by becoming a member, volunteer, and get involved! Art classes are ongoing at Bayou Arts Center by local and visiting artists. Visit CAA online for more information. Follow Cultural Arts Alliance of Walton County on Facebook for updates on events and artists.
Tagged
Add comment
Business
Photo Gallery
Town