Story
The 6th Annual 30A St. Patrick's Parade and Festival
February 4, 2013 by SoWal Staff
The 6th Annual 30A St. Patrick's Parade and Festival is slated for Saturday, March 16 2013, heralding the return of exciting Irish Music band Mithril. Drawing record-setting crowds to their Mobile Symphony Chamber Series performances, the Mobile based quartet has also been featured on the syndicated radio show Celtic Connection.
The parade expects over 50 floats and parade entries, in all shapes and sizes. Parade lineup begins at 2:30pm on Saturday and heads 4 miles west, ending at Gulf Place, where the festivities continue. Mithril headlines the entertainment that includes the Drake School of Irish Dance.  
"The 30A St. Patrick's Parade and Irish Festival continues to grow," said Paul Vizard, event founder. "There is no bigger delight than to see local businesses take time out to decorate their floats and get a free plug for their business too. The original mission to showcase local businesses and the area of 30A is being fulfilled in a greater manner than imagined."
There will be a special eco-friendly "green" prize award for the best electric, self powered or non-gas powered vehicle entry. ResortQuest is the sponsor of the perpetual trophy of Best in Parade award, won in 2012 by restaurant Stinky's Fish Camp. Businesses and individuals are encouraged to enter decorated street legal golf carts, cars, trucks or floats to vie over the coveted awards.
Festival goers can purchase commemorative T shirts and participate in arts and crafts, including jewelry making, wood carving, and face painting. A variety of food and drinks will be available. A few vendor table and tent spaces are still available, and businesses are encouraged to be a sponsor, details at www.30aparade.com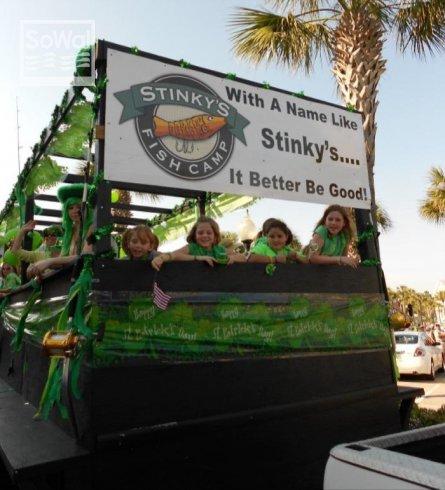 Event Information
The 6th Annual 30A St Patrick's Parade and Festival is the largest celebration in NW Florida of Ireland's St. Patrick's day. The parade commences on Scenic 30A March 16th at 3pm and ends at Gulf Place, where premier Irish Dancers and Celtic Bands perform through the evening. For details visit www.30aparade.com
Tagged
Add comment
Business
Photo Gallery
Town
Destination