Story
The Forgotten Coast America's Great Plein Air Paint-Out May 2-12
April 4, 2013 by SoWal Staff
From May 2 to May 12, nationally known artists will gather to capture what some believe to be the last vestige of authentic "Old Florida." From the western end of Mexico Beach to the east side of Alligator Point, artists can be seen painting alongside the roads overlooking the Gulf, as well as in out-of-the-way settings. Artists from across the States, as well as international locations, capture images of nature, flora and fauna, and local color in the Plein Air tradition.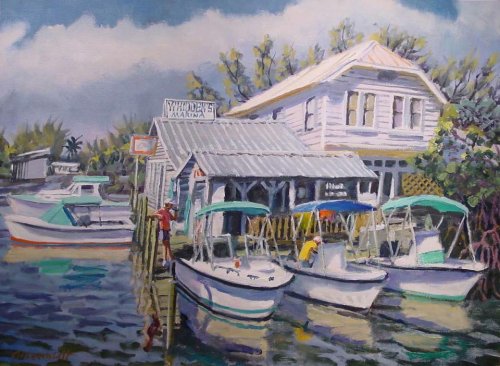 The Forgotten Coast America's Great Plein Air Paint-Out is comprised of daily artist demonstrations, workshops, and sales of locally created art in exhibit rooms in Apalachicola, Port St. Joe, and Mexico Beach. The public is invited to four receptions; May 4th at Salinas Park in Cape San Blas from 4-6pm (EST), May 6th at the Carrabelle History Museum from 4-6pm (EST), May 7th at the St. George Island Lighthouse & Visitors' Center from 4-6pm (EST), and May 9th at the Mexico Beach Welcome Center from 4-6pm (EST).
 
The public is encouraged to visit the Wetroom exhibit located at 234 Reid Avenue in Port St. Joe where artists deliver fresh paintings daily. Additional art will be exhibited at the Apalachicola Center for History, Culture and Art as well as the Mexico Beach Visitors' Center. These exhibits are offered at no charge and the public is encouraged to attend the many other free events that occur throughout the 10-day paint-out. A complete schedule of events, including artist demonstrations and special events, is available online at www.pleinairfl.com.
 
America's Great Plein Air Paint-Out is coordinated by the Forgotten Coast Cultural Coalition, a non-profit organization established to produce regional multi-community cultural events that improve the quality of life for the coastal area. The communities of Mexico Beach, Port St. Joe, Cape San Blas, Indian Pass, Apalachicola, Eastpoint, St. George Island, Carrabelle, and Alligator Point have joined forces to produce the most impressive art event along the coast. According to Joe Taylor, the event chairperson, "Many local artists gather and paint alongside the event's invited artists; it is amazing to see the art being created." Support from both the Gulf and Franklin County Tourist Development Councils as well as Visit Florida insure the event has gained a national following.
Tagged
Add comment