Story
Top Nashville Songwriters Perform at Sandestin Oct 2-3
September 29, 2015 by SoWal Staff
The Endless Summer Songwriters Series brings a group of Nashville's top songwriters to The Village of Baytowne Wharf in Sandestin Oct. 2-3. Singer songwriters will perform at restaurants and venues throughout the Village for two great nights of music.
The schedule features acoustic performances by Nashville Songwriters: Aaron Barker , Kendell Marvel, Alissa Moreno, Steve Bogard, Brent Cobb, Will Rambeaux, Sherrie Austin, Karla Davis, Hailey Steele, Jamie Lee Thurston, Hugh Mitchell, Even Stevens and Carl Anderson. This group has written for chart-topping artists such as Blake Shelton, George Strait, Luke Bryan, Faith Hill, Rascal Flatts and many more. Read artist bios at FRLA website.
One of the biggest names among the songwriters is Even Stevens, most remembered for the number one songs he wrote for Eddie Rabbit including, "I Love a Rainy Night" and Kenny Rogers' big hit "Love Will Turn You Around". Stevens composed a total of 12 chart-toppers, including nine for Rabbit. Aaron Barker and Steve Bogard have each been responsible for a quartet of number one songs. Three of Barker's hits were recorded by George Strait including "Love With End, Amen" while Bogard possesses top charting hits with Dierks Bentley, Jack Ingram, Lee Greenwood and Michelle Wright.
The free performances are held nightly at restaurants and venues in The Village of Baytowne Wharf - Rum Runners, The Village Door, Hammerhead's Bar & Grille, Graffiti & The Funky Blues Shack, and the Village Events Plaza stage. The shows are staged progressively, so you'll have the opportunity to see all performances.
Friday, October 2
6:00pm - Rum Runners
Hailey Steele, Karla Davis
7:00pm - Baytowne Wharf Events Plaza
Will Rambeaux, Sherri Austin, Jamie Lee Thurston
8:00pm - Village Door
Brent Cobb, Trent Summar, Hugh Mitchell
9:00pm - Hammerhead's
Steve Bogard, Alissa Moreno, Carl Anderson
10:00pm - Funky Blues Shack
Even Stevens, Aaron Barker, Kendell Marvel
Saturday, October 3
6:00pm - Rum Runners
Will Rambeaux, Sherri Austin
7:00pm - Baytowne Wharf Events Plaza
Aaron Barker, Steve Bogard, Hugh Mitchell
8:00pm - Village Door
Karla Davis, Carl Anderson, Alissa Moreno
9:00pm - Hammerhead's
Hailey Steele, Even Stevens, Trent Summar
10:00pm - Funky Blues Shack
Brent Cobb, Jamie Lee Thurston, Kendell Marvel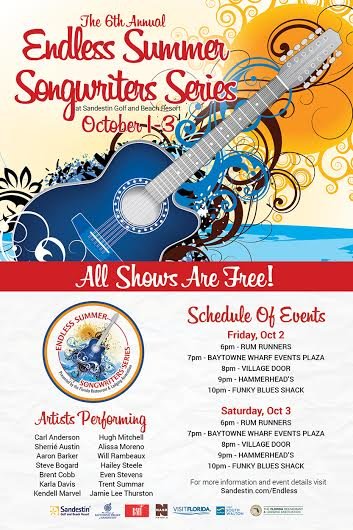 Click here for more information about Endless Summer Songwriters event and Sandestin accommodations. Stay steps away from the action at Sandestin and enjoy 30% OFF with the purchase of three nights or more. Call 888.897.0450 or visit Sandestin.com/endless for additional special offers and event details. (Promo code: SAVE30)
Tagged
Add comment