Restaurant
Local Catch Bar & Grill
Local Catch has been a local joint since day one. Owners Jimmy Hasser and Adam Yellin won't hesitate to tell you they owe a great deal of their success to word of mouth and locals sending people in. In return, they've gone above and beyond create food that looks good, tastes better and doesn't break the bank, all in a fun-loving atmosphere with a close-knit staff to boot. 
Local Catch's culinary style can best be described as Baja with a little Creole influence. Chef Adam takes pride in keeping things simple, and in doing so he's able to remain consistent. Most of his dishes are made with just five ingredients, fulfilling the senses with sweet, savory and spicy flavors and aromas, and colorful presentation.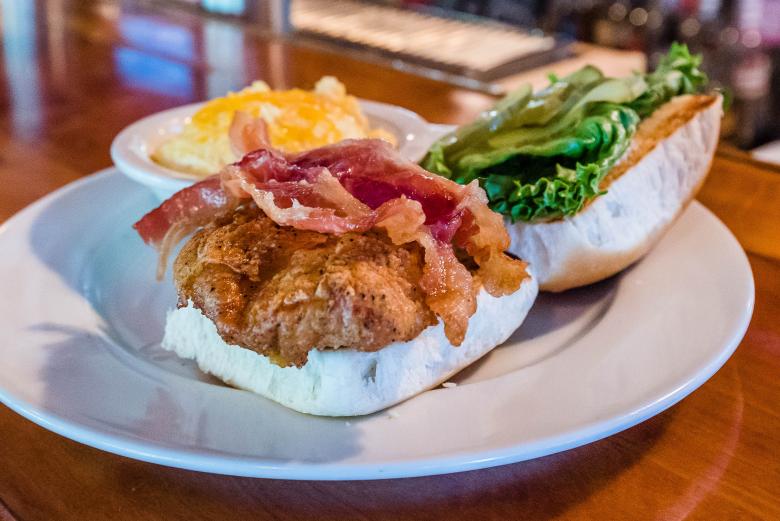 The mainstay Southern Fried Chicken Sandwich is a testament to simple goodness. So good, in fact, that it's hard to order anything else on the menu. A fried chicken breast is topped with bacon, lettuce, and tomato and served on a pretzel bun. (Insider tip: skip the white sauce and opt for a side of Chef Adam's buffalo sauce for a kicked-up version. The Louisiana native mixes a Crystal hot sauce reduction with cream and butter that'll have you craving it by the gallon.)
Besides a ridiculously wonderful fried chicken sandwich, Fried Oreos are the most craveworthy guilty pleasure on the menu. They're dipped in a homemade pancake-like batter and deep fried, then served hot a bed of vanilla ice cream drizzled with chocolate syrup. What you see is what you get? Well, I spy something awesome.
Blue plate specials switch up daily at Local Catch. Check the chalkboard on the porch to see what's cooking. If you like to eat and drink well, you're in luck. Happy hour is Monday-Friday from 3-7 with food and drink specials at the bar. Football season at Local Catch is serious business. Yell at one of eight flat screens and enjoy wing and draft specials while the game's on.
True, Local Catch's menu is to die for, and their events will have you dying laughing, too. From Tacky Prom to Tacky Christmas Sweater parties, and the annual Halloween Bash to Sunday Funday, the Local Catch crew knows how to work hard and play hard, too.
Live music is a huge part of Local Catch's identity.  Even when there's not a local act keeping the party going, Local Catch always plays great music and nurtures a laid back vibe. On Sunday Funday, cars overflow from the parking lot and line the street as those in the know pack the building to satisfy their bellies and their souls with good food and good music.  
Local Catch is open daily for lunch, dinner and drinks on Scenic 30A in Santa Rosa Beach, just a bit east of Gulf Place at Hwy 393. Be sure to check out their Facebook page and the SoWal Music Calendar to see who's playing. Visit localcatch30a.com to see menus and more. 
Local Catch Bar & Grill is a SoWal.com business partner and supporter of our community website covering South Walton and the Emerald Coast of Florida.
Comments
Good food! Good people!