A Bit of Bad Weather but Great Fishin'
May 8, 2013 by Larry Pentel
Since my last report we have had a lot of blowy weather and a few down right chilly mornings. The hard west wind that blew for the past 10 days put a damper on the Cobia fishing but I did hear of a couple caught today (the 1st calm day in a while).
I have mainly been bottom fishing with the Cobia conditions less than favorable. There are LOTS of Vermilion Snapper around, probably as good a bite of 'em as I have seen. While not near as big as those Red Snapper we have to throw back for another 3 weeks, they taste wonderfull and we can keep a pile of 'em!. The Kings are still spotty but there are a few around as well as some Triggers, Black Snappers and Red Groupers. Here are some pics from the last 10 days .
Two big Groupers on a 3-hr. afternoon trip.
This family was so into the fishing trip they even had T-shirts made! Dad caught the big Black Snappers even without his shirt.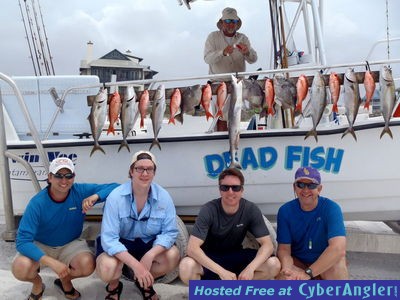 Amberines, Triggers and Snappers-- what a great fish fry.
This was supposed to be a 4-hr. but it blew up so we came in an hour early - 38 Vermillions total.
Dad got on the boat and said to put these boys on the Vermillions... success! And plenty more in the box.
I imagine there will still be a few Cobias coming through for anyone that wants to look. A couple days of normal weather should put the Kings in higher gear as well. For all you shore bound folks, the Pompano bite has been nothing short of incredible. Even on the hard west wind days they are biting!
Get out there and catch something!
Tagged
Add comment