A Different Shade of Red (Fish)
November 23, 2010 by Larry Pentel
It's been a couple weekends since I typed up a report but I have been runnin' hard. The Weekend Red Snapper season held up with fairly nice weather and a great bite of fish all the way to the end.
Yesterday was the last day for the 2010 "special" snapper season. In between catching Snappers, Groupers and Kings I went over to Indian Pass for 5 days and took a father/son fishing team on the flats in the morning sight fishing redfish and out to the oyster bars in the afternoon chasing Trout.
I am happy to report that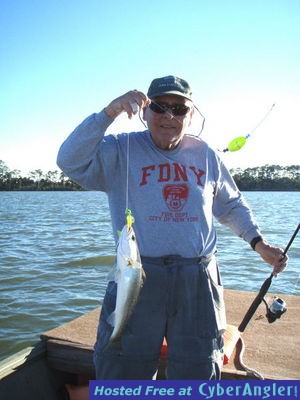 the Red fish are not only up in the skinny water but ready and willing to eat a rubber shrimp tossed directly in front of 'em. 
The trout bite out in the middle of the Bay this time of year never ceases to amaze even an old fishhead like myself. When the specks have a huge school of shrimp balled up they will eat anything that moves.
We had a couple afternoons of a fish every cast for 45 minute to over an hour periods. If you miss a bite or 3, no matter, another fish will jump right in and grab the lure the next time it moves. The grade was good for schooling fish with about 40% of them being over the 15" mark and the biggest we landed about 5 pounds.
Here's a picture story from the last 10 days or so----
Weekend Snappers & Kings at Grayton
Some BIG ones on a late Saturday Afternoon trip
A Warsaw for a Bonus !
A great grade of Reds and a BIG Black for a Bonus
His first sight fished Red
Back to Grayton and more Snappers
Even the Locals got some action
The last morning for keeping Red Snapper
For the rest of the winter the only red ones to keep will be the Red Fish. I plan on fishing over at the Pass a bit more in the next 2 months. Sight fishing is always my favorite past time and who can argue with trout fishing when you can catch 150 in an afternoon?
There are still lots of fishing opportunities available in the Gulf without Red Snappers. The Amberines pull harder than any thing else out there and a trigger fish is still my #1 pick for table fare, the Grouper bite should continue to improve as the water cools and a Big smoker King is always a possibility this time of year.
Tagged
Add comment