A Little of Everything Fishy
September 17, 2013 by Larry Pentel
Just like the title says, we have been catching a little of everything fishy off Grayton lately. The weather has been fantastic up until today with warm temps, light winds and calm seas. Hurricane Ingrid, down in the bottom of the gulf and going into Mexico has caused a swell to make it all the way up here to the northern Gulf though.
I ran a 3 hour trip this morning but had to cancel my afternoon due to the increasing surf. While the sun should keep shining and it will be great beach weather I am afraid that the swell will continue for the next several days. Oh well, all the young skinny kids with surfboards will have a blast!
Here are some pics from the past 10 days of beach launch fishing......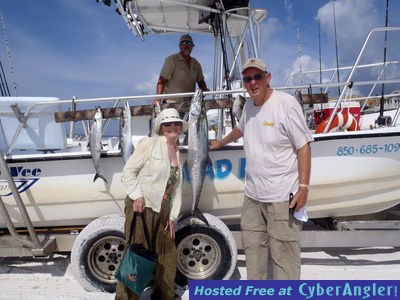 This mornings catch... Yes guys, the Gal got the BIG one....
A family afternoon trip with what we kept till Mom said " We don't need to keep any more Fish !"
A great limit of Kings, Spanish and most of a fine Grouper (darn sharks.....)
Some locals with a pile a Triggers and some Almacos Jacks. What a great fish fry!
These guys got Triggers and a bunch of big Vermillions... I think I counted 27 when I cleaned 'em.
This family landed a few of everything.. Groupers, Triggers, Macks and a big Black Snapper on a morning 4 hr.
A few of the Grayton Beach Irregulars on a 2 hour afternoon "Fish Fry" trip....
These guys just "Big Fish " fished.. and did great ! 6 Groupers and a pair of Kings on a 4 hr.
This 1/2 day yielded a limit of Amberines, some Trigs and a big King.
Another great mixed 4 hr board with Jacks, Snappers and Triggers.
It's that time of year... few folks on the beach, no lines at the Grocery or the good restaurants and few boats chasing an ever increasing bite.....If the weather will cooperate this is a great time to go fishing!!!
I am going back over to Indian Pass next week to run a couple "last of the season" scallop trips, first of the season Redfish & Trout trips and maybe, hopefully, find another Tarpon or 2 before they migrate back South. Of course I have to get back here before October 1st for 3 weeks of......Red Snapper !!!!
so many species, so little time to chase 'em all....
Tagged
Add comment