Story
Back To Fishing in Grayton Beach
September 1, 2016 by Larry Pentel
I know, it's been a long time since I wrote a fishin' report. My camera died right before I left for Indian Pass almost a month ago where I have no real computer access. I ordered another camera and was able to salvage a couple of my last photos from Grayton as well as take a few over at the pass. I made it back home to Seagrove yesterday and am back in the groove.
Tarpon fishing at the pass this year was not as good as most years. There were LOTS of fish around several days but very good "feeds". From what the other guides all told me the fish had been gang busters the first couple weeks of July but kinda just fizzled after that. For my folks that got in on a good day and a great feed they probably don't know why I'm fussing.
On the bright side it was a GREAT year for Tripletails. We saw fish every day and had several days where we really didn't have time to look for Tarpon with all the 'tails showing. There were not many big fish but the vast majority were good legal size. The only BIG 'tail I saw (over 20 pounds) was the biggest one I have ever seen hooked. I'm gonna call it at least 35 pounds since we didn't land it (threw the hook on a jump at the boat) but it may well have been 10 pounds more.
Before I left Grayton we were doing good with the vermillions, and getting a mix of bonus fish including mahi, Black Snapper and Kings pretty steady.
As always, here are some pics of the big ones that made it to the boat.
My oldest daughter and her crew on her annual Tripletail birthday party trip. A big time was had by all!
My (now famous) "that's my first ever (insert fish here)" angler who keeps coming up with new species every trip even after fishing for 60 years. with his first black tip shark and first Tripletail.
Another now famous angler who while only 9 years old is as hard core as anybody you will ever meet. He and his dad hooked 13 'tails this trip with a bunch tagged and released.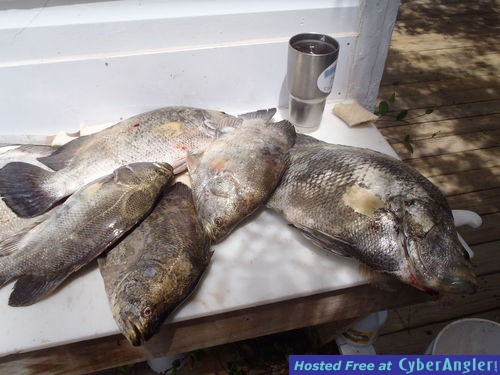 A limit on the cleaning table!
A Great Grayton trip with Vermillions, Kings and big Black snapper for a morning 4 hour trip.
These young lady anglers had a big time filling up the fish board with the dads.
With TS Hermine churning up the Gulf there won't be any fishin' for the next few days. Red Snapper reopen in state waters on Friday but from the current forecast I don't think I'll be chasing 'em.
As soon as the weather lets me I'll be back out there!
Tagged
Add comment