Story
Changing Gears and Fish Seasons
July 26, 2018 by Larry Pentel
Hard to believe it's getting towards the end of July and Red Snapper season is over for 2018.
We have had a really great run of nice weather, I think I got to run 27 days in row until a blow 2 days ago. All that pretty weather had some fantastic fishing adventures and catches. I can't put up but a few pictures so don't get upset if you had a great catch and didn't make the fish report... just another reason to go again!
We limited out on Red Snappers every trip but 1 and I had a bunch of junior anglers that trip that did better with the vermillions. There have been plenty of Kings, quite a few Black Snappers and even a few Groupers gracing the board as well. The occasional Mahi and lane Snapper too.
With Red Snapper closed now we will be back to filling up the box with Vermillions. Still Kings around and..... there have been cobia showing up the past few days! Seems we have a push of the brown backed crab crunchers coming through. I had a fellow catch a BIG one this morning and Capt Tyler had a a good legal fish as well. I heard of several others being seen or hooked today.
August 1st has Triggerfish and Amberjacks re-opening. Triggers for the rest of the year and AJ's for 3 months. While I don't know where to go to promise a legal AJ on a 3 or 4 hr trip right now there are enough big Triggers within 8 miles of the launch to sink every boat I own! I'll get the first week of Trigger season in and then I'm off to Indian Pass for 3 weeks to chase Tarpons and Tripletails. From all the reports I have heard the Tarpon bite is HOT right now..... I'll be back at Grayton to fish here Labor Day weekend.
Here's pics...
Nice Red Snappers, Big Black Snapper and Kings.
And another great catch of the same.
My ace jr angler brought a buddy this trip.
Red Snappers, bunch Kings and a bonus Gag and Scamp!
Locals with a great trip and a big time.
This Dad and kids had a blast! That young lady on the right caught a big King by herself and was about the proudest angler I had all month!
Look at the size of that bonus King!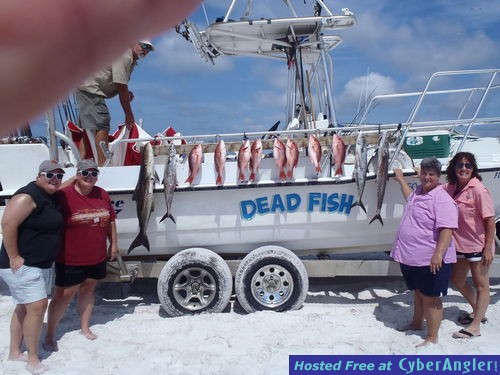 The last day of Red Snapper season with a bonus cobia for some repeats from Tallahassee.
Todays big Cobia. As big as that angler is it still took him 40 minutes to land that fish.
I'll be back out there tomorrow......
Tagged
Add comment