Fish - It's What's for Dinner
June 30, 2013 by Larry Pentel
Lots of fine fish dinners this past week. Fresh Red Snapper Ceviche' and fresh, fried King Mackerel is a hard menu to beat! I was fortunate enough to have a few folks leave us a few filets this week so we ate good, too.
The Snapper bite actually seems to have gotten better since the opening of the season. I think we have had a few more fish move in to our part of the gulf the past ten days. While they still bite better some days than others, I haven't had to "work" to get a good catch as often. Still Kings around with the usual on/off bite. If I could just find where that switch is; it sure isn't on my console. When they are hot, they are HOT!
Gag (black) Groupers open up tomorrow (July 1st) and as many as we have been throwing back lately, it should be a great season. I have had to have folks fish up in the water on a lot of spots just to try to keep the Groupers off the baits. Pretty neat when you can catch a Gag 30' under the boat in 80' of water! Red Snappers remain open in Florida State waters for two more weeks; they closed in Federal water on Friday. Luckily for us, there is no need to run that far offshore to find a great catch!
Here are some pictures to back up the fish stories my anglers are telling.
Proof that football players can fish too.
 
This was a "tough bite" morning", and still a great board.
The grandads got the BIG ones on this trip.
Yep, they outfished the dads so they were the stars in the pics.
 
This was a 3-hour afternoon trip and these folks had never been before. When the bite is hot, it's HOT!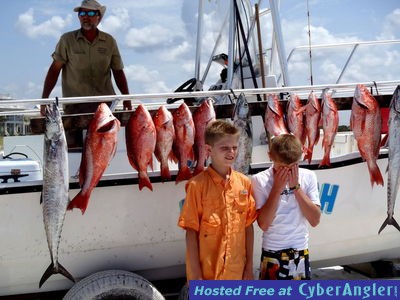 "I can't believe mine was a 1/4" shorter than the biggest one."
A great beach trip board - limit of Snappers and a couple of fine Kings.
Some lightning in the sky offshore this morning, so I'm waiting it out to see if we can go later in the day. This is traditionally the BIG week at the beach for summer (4th of July) with lots and lots of folks down, so I hope it won't be too hard to find an open spot to launch!
Tagged
Add comment