Story
Grand Opening Native Plant Demonstration Garden & Trail June 21
June 4, 2013 by SoWal Staff
Come out on the first day of summer, June 21 at 4 p.m., for the Grand Opening of the Native Plant Demonstration Garden and Trail. The event takes place at the South Walton Center of Northwest Florida State College, located at 109 Greenway Trail in Santa Rosa Beach. Both the Walton Area and Destin Area Chambers of Commerce will host a ribbon cutting to open the garden and trail. Immediately following, from 5 p.m. to 7 p.m., the Cultural Arts Alliance will host a reception with wine and appetizers to open the annual A+ Art Show.
The Native Plant Demonstration Garden and Trail is a joint project of the Walton County Master Gardeners, NWF State College and the Choctawatchee Basin Alliance and is a site for beauty and inspiration, as well as public education. The garden demonstrates best practices for the use of native plants, water conservation and other Florida friendly gardening techniques in the home landscape.
The multi-modal Native Plant Trail wraps around the south and western edge of the college's South Walton Center and a corresponding Trail Guide refers visitors to markers along the Trail, providing information about native plants that occur in our local ecosystem.
For more information, contact the NWFSC South Walton Center at 850-200-4160.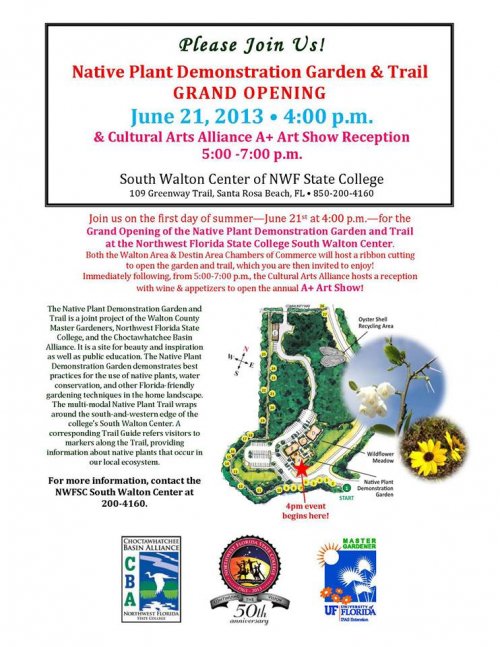 Tagged
Add comment