Story
Gulf Place Concerts Rock Sunday Nights in SoWal
June 12, 2015 by SoWal Staff
An outdoor concert on the green on a warm summer night is a sweet part of SoWal beach life. And what a perfect way to end the weekend. Gulf Place Sunday Concert Series for Summer 2015 is underway for the season and the lineup is looking hotter than ever.
Make plans to be at the Gulf Place Amphitheater on Sundays from 6:00 p.m. to 9:00 p.m. Locals and visitors enjoy attending weekly concerts at this wide open music venue on the green where the music is flowing and friends are having a good time. Easy parking and plenty of food and drink all around the colorful town of Gulf Place.
Each week will feature a different local or regional band with sounds across a range of genres. Concerts are free and open to the public and all ages are welcome. Bring chairs and blankets to enjoy the concert under the stars on the amphitheater lawn. 
 
Gulf Place Summer Concerts | Sundays at 6:00 p.m.
 
June 7 – Casey Kearney Band
June 14 – Chronic Jester
June 21 – Emerald Gold Band
June 28 – Whyte Noyse
 
July 5 – Dismal Creek
July 12 – Old Truck Bluegrass Band
July 19 – Red Idle Rejects
July 26 – Cadillac Willy
 
August 2 – Tony Vegas
August 9 – Neil Dover
August 16 – Fearless Heights  
Pizza By The Sea at Gulf Place is a favorite dining spot in South Walton 
Gulf Place is a vibrant neighborhood community nestled in South Walton County. Splashing fountains, park benches, tree-lined streets, footpaths, an amphitheater and parks compliment the town center's location directly across from the Gulf of Mexico. There are many restaurants and bars with outdoor seating and live music on certain nights. Stop by Gulf Place for the Third Thursday Walkaboutfrom 5-7 p.m. on the third Thursday of each month. Walk the shops of
Gulf Place and find the latest fashions for women and men, swimwear, casual beachwear, bike rentals and beach gear.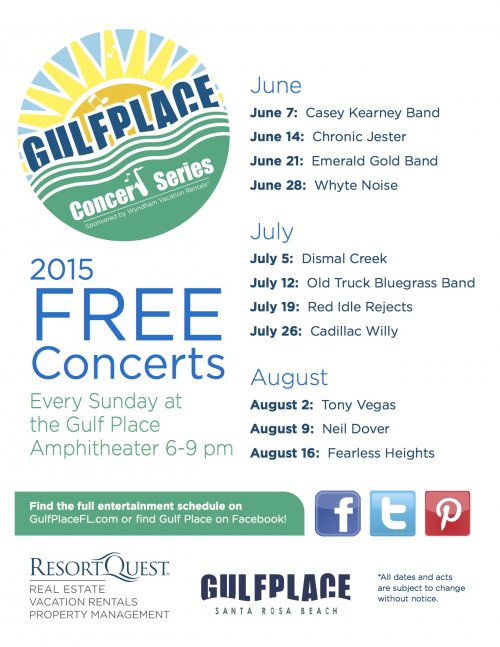 Tagged
Add comment
Photo Gallery
Town
Destination