Merry Fishmas From SoWal Beaches!
December 24, 2010 by Larry Pentel
Seasons Greetings from the beach! It may be winter but we are still are having some beautiful sunny days here in South Walton.
I have spent most of the past 2 weeks working on the boat. The "Dead Fish" has two brand new 70 horsepower Yamaha 4 strokes, new hydraulic steering rams, some new fiberglass and the interior all has shiny new gelcoat.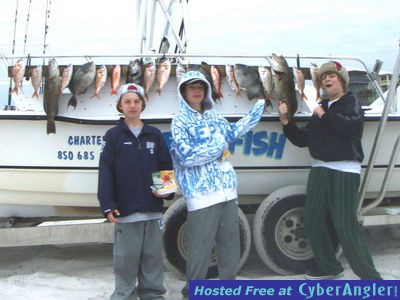 Now I just have to rebuild the trailer , a couple dozen reels and I'm set to go for another season! I have been able to get out in the Gulf a few times lately. I had to "break in" the motors, idling around for several hours so I stopped on a close in spot and fished (by myself!) for half an hour when the engines were ready. I had a blast , catching 9 flounders and an octopus on light tackle. The old bus drivers holiday-- I'm always ready to fish!
About a week later I had three young men out on a half day and thought it was going to be easy- just go to few flounder spots and fill the box. As quick as they show up the fish are apt to leave. I checked 2 good flat fish spots and both were totally devoid of bait and flounder, oh well, off to bottom fish. My young anglers did great, they landed a dozen Groupers, 2 of which made the grade to keep, some triggers, a big Sea Bass, some Vermillions and a couple dozen pink snappers. They also each landed a Glory fish Red Snapper. We had several in the 15 pound range with the biggest 'bout 18 pounds. 
Yesterday I got to take some of my family out on a Christmas trip. The weatherman lied (again ) and it was way more blowy than predicted but we made it far enough offshore to find that the Groupers have come in and they seem to be pretty darn hungry. My son, daughter and son-in- law all had a great time and dad even got to catch a couple!
A Dead Fish Family fishing trip.
I have several trips on the book for next week,if the weather cooperates I should have some more good Grouper Pics next report.
I hope everyone has a great Christmas and gets that new rod and reel they want. Have a good season and hopefully a fishy New Year!
Tagged
Add comment