Perfect Conditions and Perfect Fishing in SoWal
October 11, 2012 by Larry Pentel
This fall weather pattern we have been in makes for some perfect fishing conditions. A little breezy out of the North first thing and then it has just been laying down to flat smooth by mid day. Cool early (a light jacket is nice) and by noon it's warm without being sweaty. October sure is wonderful here at the beach!
The Grouper bite continued on after my last report and maybe even heated up some more (like that was possible?) before falling off the past few days. As usual though, when one species backs off there is another predator ready to jump in quickly.
The Jacks have shown up - in force no less! This morning my first stop had my anglers to the rail right away with a great bite of Amberines. We limited out and moved on to another reef only to find 'em red hot there as well.
After a bunch of "just short" Triggers (a couple keepers too), Vermillions, and Pinks, one of my anglers hooked up a big Bull Shark. Now this fellow was not about playing the fish, he was gonna winch 'em in and by gosh he did just that.
His wife made some pics of the big toothy critter at the boat and he turned and told me, "Capt. - I'm beat, we got a great catch of fish - take us in. " Another successful trip and I got to finish up early and write a fishing report !
Here's a few pics from the past week-- including a couple of great Grouper boards.
I had the kids fishing as well as the Dads-- each of the kids caught a Grouper ON HIS OWN. A fantastic 4 hr catch.
 
This couple has fished with me before and the gal was so worried when I said we were going to target Grouper-- she caught 3 of the 4 on this afternoon 3 hr. trip!
 
These guys wanted to chase Groupers- nothing else- they had a great catch! There is even 1 more nice fish hiding behind the anglers.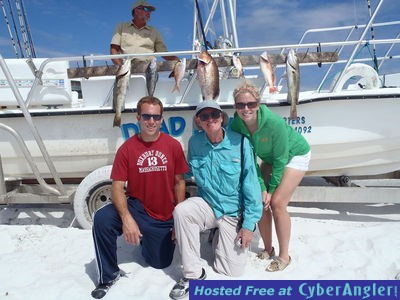 These folks got on the boat and said they didn't want to keep many fish-- just get 'em some big pulls. I put 'em on some fine Red Snapper we released, and we kept these for dinner.
 
These two did bring their dads with 'em but since they caught everything except the Groupers, we just put them in the pic.
 
This group had some shots at the Groupers and missed but they really shined on Jack fishing.
 
My folks from this morning-- yes Gals- she out did her husband in numbers but.... he did land a 200+ pound Bull Shark that we released.
The Amberines are pretty much right on schedule and should be thick for next month or so. I saw two BIG schools of Spanish this AM, while catching bait, so there is another option on the table. The Kings still are not as thick as usual for this time of year, but the cigar minnows are conspicuously absent. I'm sure that wherever the cigs are, that's where you can find the Kings. One morning soon I'm sure they will be everywhere on the beach.
Get out there and enjoy some of the best weather, and pretty darn good fishing too!
Tagged
Add comment