Return to Paradise
September 4, 2014 by Larry Pentel
Ah yes, it's after the Labor Day holiday and our little slice of the earth is back to almost paradise again. The beach is about empty, there are no lines at the grocery or restaurants and the only boats fishing off Grayton are the couple that launched from there.
We have had clear water and pretty clear skies since I came back from Indian Pass. A little bit of surf this weekend kept everyone from fishing a couple trips but you could not have asked for a finer day than this morning. The beach is always at it's best after most of the vacationers are gone!
After fishing at the Pass for almost a month I never know just what to expect the first few trips back out off Grayton. I am happy to report that all the finny critters are pretty much right where they are supposed to be and seem to be willing to cooperate with anglers. here are a few pics from the past week.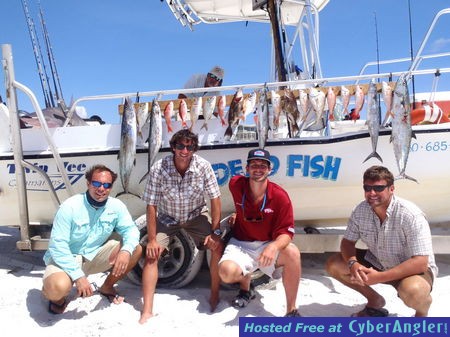 Todays catch... these guys wanted "biggerfish" at first so we trolled and went 6 for 13 with the Kings, then bottom fished a bit for the scamps and snapper. When that big Bull ( far left) ate a snapper on a 40 pound rod that made the day. It took a while but they got 'em in in time to keep us on schedule for a 4 hour trip.
These guys got a limit of Triggers, some nice vermillion snappers and a Lane on an afternoon trip.
This father/son crew has fished with me for years along with other family members. When they sent a pic of that 40 pound King to the brother that couldn't make the trip he quit answering the phone ..........
This was a 2 hour birthday trip for that young man on the far left. He loves to fish and gave me a great compliment. He said that catching vermillion snappers was more fun than Disney world!
These guys had just about a limit of Snappers and asked if we could fish for 'big fish". A pair of fine Amberjack finished out a 4 hrou trip to big smiles.
The next three weeks are some of the best time here at the beach. Lots of sun, fish and empty beaches. I may even get to go catch something myself in the next week or so.
Tagged
Add comment