Story
Seaside Hosting Nutcracker Auditions for 2014 Performance
July 30, 2014 by SoWal Staff
The holiday town of Seaside will host dance auditions for Act II of the 3rd Annual Seaside Nutcracker on AUG 22, from 5pm-6pm at the Seaside Assembly Hall. The Assembly Hall is located across the lawn from the Seaside Neighborhood School at 168 Smolian Circle. Dancers ages 8 to 18 from the Northwest Florida regions are eligible to participate in auditions.
 
The Seaside Repertory Theatre (REP) will also conduct a casting call for Act I actors on AUG 21 at 6pm at the Seaside REP Theatre, located in the back of the Holl Building at 30 Smolian Circle. For more information, please email Info@SeasideRep.org or call the office at (850)231-0733.
 
The 3rd Annual Nutcracker in Seaside will be directed and choreographed by Rose Barile, an honor graduate of Juilliard School and former prima ballerina with the Atlanta Ballet. Barile recently celebrated more than 30 years as Director of Alpharetta Dance Theatre and her company has performed the Nutcracker in North Atlanta for 18 years.     
"We are excited about creating an opportunity for dance students to develop qualities of strength, discipline and leadership in their school and communities," said Barile.
The one-time performance of Tchaikovsky's Nutcracker in Seaside is scheduled for NOV 22 and will feature Act I and Act II. The performance will be free and open to the public. (In case of inclement weather, the performance will be held on NOV 23 at 5pm.)
 
The workshops will be conducted AUG 22-23 from 10am-12pm and 12:30pm-2:30pm at the Seaside Assembly Hall.
 
Rehearsals will be conducted by Seleta Hayes Howard, Seaside Nutcracker Ballet Mistress and Special Projects Director, and will be conducted on Fridays from 4-6pm during the 10-weeks leading up to the performance. Howard is also co-founder of Seaside Neighborhood School's dance program.
 
A mandatory dress rehearsal will be conducted the day of the Nutcracker performance, NOV 22 from 10am-12:30pm. (In case of inclement weather, the dress rehearsal will be conducted on NOV 23 from 10am-12:30pm.)
 
The audition fee is $25 (non-refundable) and pre-registration is required by AUG 21. Total cost for the workshop, costumes and all rehearsals is $150.
 
For more details and registration, please visit seasidefl.com and click on the Events tab to download the application form or request an application form by emailing rose.barile@aol.com.
 
Seaside, built on 80 acres on Florida's Gulf Coast, is located on South Walton County's Hwy. 30-A, between Panama City Beach and Destin. Acclaimed world-wide as one of the iconic examples of New Urbanism, Seaside offers a thriving town center with shopping and dining, all within walkable distance to homes, cottages and offices. Consisting of more than 300 homes, many of them vacation rentals, the town offers more than 12 restaurants and eateries, and 41 shops and galleries.
 
Seaside was recently named the "Best Beach on Earth" for families by Travel + Leisure magazine and included in USA Today's Top 10 Best Beach Towns in Florida (2013) by "Dr. Beach." The town was also the primary filming location of the classic movie "The Truman Show."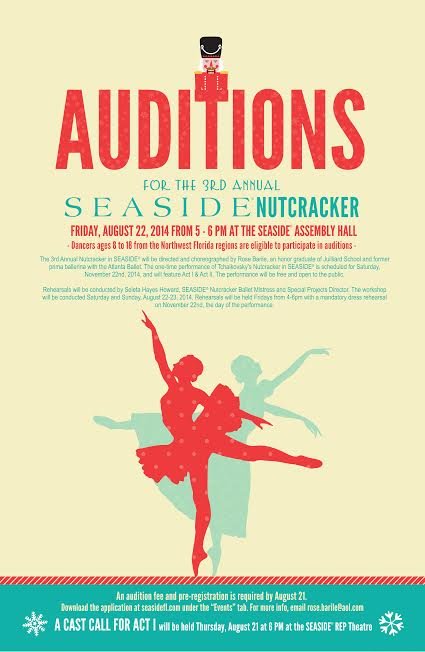 Tagged
Add comment
Business
Photo Gallery
Town