Story
Shelter House Announces 4th Annual Luminaria Run Winners
December 12, 2014 by SoWal Staff
Shelter House presented its 4th Annual Luminaria Run to End Domestic & Sexual Violence on Dec. 6 in Destin. The 5k and 9k courses were illuminated by more than 2,000 luminarias, representing how Shelter House and its community partners light the way to a safer place for victims of domestic and sexual violence. The 9k distance serves as a reminder that a woman is assaulted or beaten every nine seconds in the U.S.
 
More than 360 runners turned out for the race, which included 5k and 9k courses winding throughout the Indian Bayou neighborhood. The fastest male in the 9k race was Scott Liechte of Fort Walton Beach with a time of 35:01. The top female on the 9k course was twelve-year-old Delaney Cookman of Destin, clocking in at 43:27. The 5k was led by Lena Railey of Destin, who came in at 18:13. The fastest male in the 5k was James Finucane of Destin, finishing the run in 19:44.  
5K Female Winner
"With all of the runners who turned out and more than 100 volunteers, Shelter House is thrilled to see this level of support from the community we serve," said Shelter House Executive Director Michelle Sperzel. "The Luminaria Run is not just a race. We designate each mile for someone who has endured domestic or sexual violence, honoring all who have been touched by it, remembering those we have lost and celebrating survivors."
 
The twilight race, which brought in more than $20,000 for Shelter House, featured runners wearing glow sticks and even a few in Christmas lights. The event was capped off with a post-race party at Bubba Gump Shrimp Co. featuring a sweet finish courtesy of Karaboo Bakery and Sugarmill Sweets. Runners were also treated to hot cocoa, gumbo, s'mores, hot toddies and more while the awards were presented.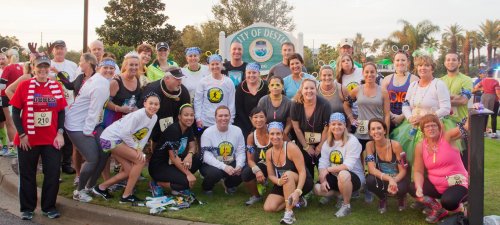 Team Move Strong
Shelter House wishes to thank the race sponsors who made this event such a success: Bubba Gump Shrimp Co., Karaboo Bakery, Silver Sands Premium Outlets, Dixielectricar, SoWal, The Beachcomber, On the Coast Magazine, ResortQuest, RLI, Yolo Board, Fast Signs, Murphy's Home Services, Inc., Destin Commons, Think It Wear It Express, Destin Shines, Ramada Plaza Beach Resort, Trustmark National Bank, OIS Media, Run With It, DJ Mike Whitty Entertainment, Aimee's Animal Magnetism, Sandprints Photography, Sugarmill Sweets, Matthews & Jones, LLP, Waterstone Mortgage, Abner Williams of Coldwell Banker United and Damsel in Defense.
 
The 5th Annual Luminaria Run to End Domestic & Sexual Violence will take place on December 5, 2015. For more information on the race or sponsorships, call Shelter House at 850-243-1201 or visit www.shelterhousenwfl.org.
  
Shelter House is the state-certified domestic and sexual violence center serving victims in Okaloosa and Walton counties. Services provided include 24-hour domestic violence/rape hotline, crisis counseling, advocacy, outreach, support groups, primary prevention, transitional housing and confidential shelter. If you feel that a family member or intimate partner is endangering your physical or emotional safety or if you know someone experiencing this in their home, call Shelter House's hotline at 1-800-44-ABUSE, or 850-863-4777.
​ 
Tagged
Add comment