Story
Stroll Baytowne Art Walk Aug 29-31
August 28, 2014 by SoWal Staff
The Village of Baytowne Wharf is hosting Baytowne Art Walk August 29-31 from 5-10pm in the Events Plaza. Stroll the streets of Baytowne Wharf as you enjoy live music from local musicians and browse a variety of works by local and regional artists. 
 
This year's Baytowne Art Walk is set to be the biggest one yet with fifty artist booths featuring fine art, folk art, jewelry, coastal themed art, handmade signs, picture frames, and more.       
Guests will also enjoy live entertainment with musical performances by local favorites Reed Waddle, Chris Alvarado, Jacob Mohr, Donnie Sundal, Chuck Lawson, and Three Bean Soup.  
 
Baytowne Art Walk Music Lineup: 
Friday
5-7:30pm | Reed Waddle
7:30-10pm | Chris Alvarado 
 
Saturday
5:30-7:30pm | Jacob Mohr
7:30-10pm | Donnie Sundal
 
Sunday
5-7:30pm | Chuck Lawson
7:30-10pm | Three Bean Soup
 
"This event is unique because you visit all of our beautiful white Baytowne Art Walk tents as you stroll the streets of The Village of Baytowne Wharf," said Julie Stuckey, Events Manager at The Village of Baytowne Wharf. "This is a great place to listen to music, find unique art, and spend your evening." 
 
Kids of all ages are invited to Baytowne Art Walk. When they aren't viewing work by featured artists, they can visit the Carousel, BLAST Arcade and Laser Maze, Baytowne Adventure Zone, shop at Coconut Kids, or enjoy the playground, all located within Baytowne Wharf. Baytowne Art Walk is free for all ages and open to the public. 
 
Located along the shores of the Choctawhatchee Bay in Northwest Florida, The Village of Baytowne Wharf features an array of boutiques, eateries, galleries and nightlife -- not to mention a jam-packed schedule of outdoor festivals and special events for the entire family. This spectacular setting, all within the gates of Sandestin Golf and Beach Resort, is the perfect spot to spend a vibrant afternoon, evening, week, vacation, or you can be a few of the lucky few who frequently experience Baytowne Wharf through home ownership.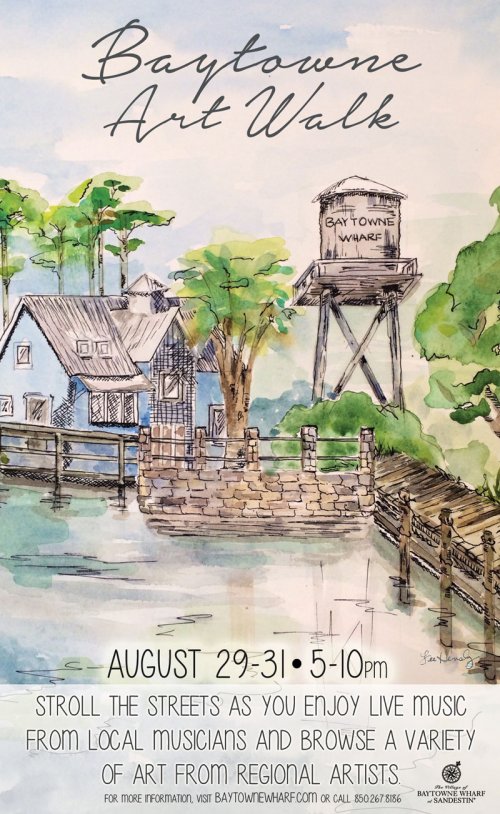 Tagged
Add comment
Business
Town
Destination