Story
The State Is Messing With Our State of Fishing
June 22, 2017 by Larry Pentel
The big news in the ongoing political football of Red Snapper management (and fishing) is that the State of Florida just changed the rules in the middle of the game.
The MUCH publicised schedule of the season of being open continuously through July 9th and then on Fridays, Saturdays and Sundays in the Fall was changed last Friday with only one day notice. The new State season (for now anyway, who knows what they will do next week) is Friday, Saturday and Sunday through Sept. 4th , also including July 3rd & 4th and Sept. 4th. Snappers will be closed Tuesdays through Thursday in this period and there is now NO Fall season. If you booked a snapper trip relying on what the Florida Wildlife Commission had promised I am sorry. There are still lots of fish to catch other than Snapper when they are closed. If this season change affects a long-planned trip I would ask that you call the FWC and voice your displeasure.
Keep up with the latest and find contact info at http://myfwc.com/fishing/saltwater/recreational/snappers.
All this was done as part of a five-state deal in order for the private recreational angler to get a few more days of Snapper in Federal Gulf waters. The Fed season was only three days for private boats and lots of folks complained. The Feds said that if the states would "give up" some their seasons then fed waters would be extended (but only to private boats). Florida gave up all the Fall season and swapped around the Summer season to make it work. Interestingly, Texas, which has a state snapper season open every day of the year, did not give up anything.
To all the folks that have booked with me: We can still keep Red Snappers on the weekends in state waters and it's now all the way through labor day. If you have a trip Monday through Thursday we can still keep Red snapper in Federal waters (beyond 10 miles) through July 19th as long as I run the "other" boat with the Federal permit. If you have booked a trip in the Fall with the intention of keeping Red snapper we will have to change game plans.
I have contacted my elected representatives who are patting themselves on the back for this bad deal and they are blaming FWC. When I contact FWC they either blame the Feds or say "tough luck". It would be nice if we could ever get back to "Fisheries management" instead of political agendas for the Gulf.
On a more normal note. We had been catching lots of Red snappers with quite a few being on the large side, Kings, some Mahi, Black snappers and even a few grouper before Tropical Storm Cindy blew into the Gulf and shut down fishing for most of this week.
Here are some pics from "original" snapper season the past 10 days.
Some fine Red snapper and a BIG Red Grouper by a bunch of June regulars.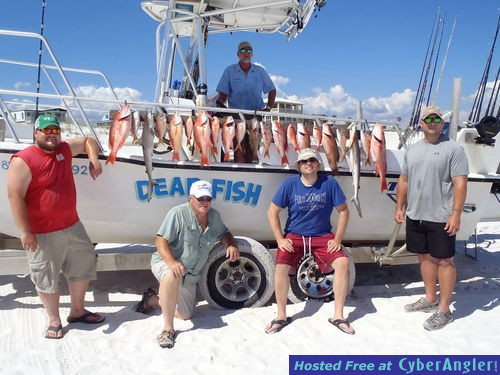 Nice snapper catch, Black snapper, couple sharks and a scamp.
Kings, Big Black Snapper and Red Snappers.
This couple got a limit of Kings and Red Snappers on a half day.
Long time June regulars with Kings and Red Snapper. We made it in just ahead of the squall.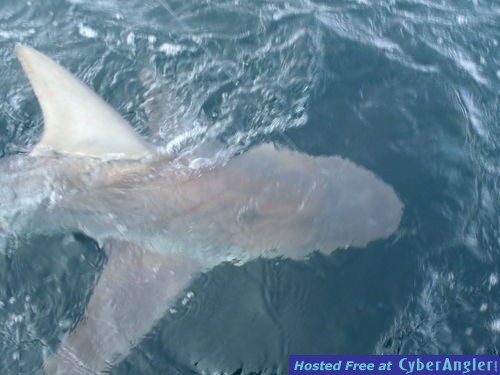 Bull at the boat! my anglers won this round.
These folks got a couple BIG Red Snapper but a Bull won the round with that one in the middle.
As good a snapper catch as you can get on a 4 hr. with some long time regulars.
It looks like we are all on the hill for another couple days with the surf from this storm. It will be interesting to see if the high water and surf moved any fish around. Sunday looks good and I am excited to see what's biting after Cindy's big blow. The best bottom fishing of the year can be in the two weeks or so after a big storm.
Tagged
Add comment