Story
Tryin' To Reason With Hurricane Season
October 7, 2016 by Larry Pentel
It was absolutely beautiful here at the beach yesterday and today but the folks over on the East Coast are dealing with Hurricane Mathew. The storm has us getting a pretty stiff NE wind which makes it slick calm on the beach but pretty bouncy offshore. In another 2 weeks I'd take my folks out to chase Flounders and Kings right up on the beach but right now our only species are the Kings up in close and my folks decided they didn't want to just troll for a whole trip. Fine with me as it gives me a chance to catch up and write a report !
With Red Snappers open Fridays, Saturdays and Sundays they have been our primary target on the weekends with a few Groupers and some Kings thrown in as well. During the week we have been filling up the box with Vermillion snapper and spending a little more time with the Kings. Day before yesterday afternoon I ran a 3 hr where we caught a pile of Vermillions and then went and got 3 Kings real quick before we came in. Pretty normal except 2 of the kings weighed 75 punds together! My folks were a group of first timers and I may have spoiled 'em.. they were excited!
Here's some pics from the past couple weeks, give a few folks braggin' rights and also to prove I don't just make up fish stories... Most of the pics are weekends just 'cause Red Snappers photograph so well but believe me, we have been getting great catches of their smaller but sweeter tasting cousins during the week.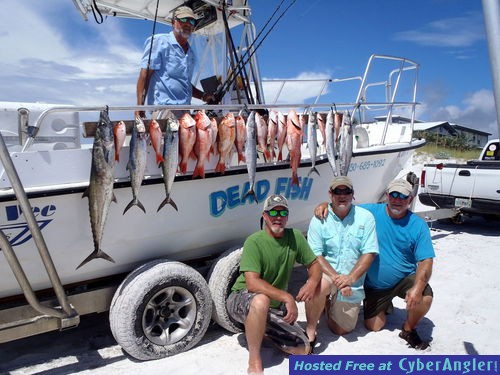 A long time regular and his sons (2 more long time regulars) on a fun family 4 hour trip.
The fellow on the end is a steady regular and brings that gal in the middle once a year...Boy can she fish !! She gets credit for over half this mornings board.
There he is again with another group he brought and another fine catch.
A short 3 hr afternoon with a great catch of "glory" fish. Limit of Red Snappers 2 Kings AND 4 Groupers.
Four more long time regulars with a BIG gag Grouper for a bonus with a limit of Red snapper.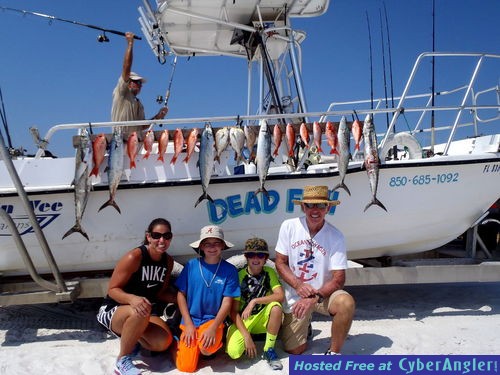 One of my neighbors and some of his family on a weekday trip. Those grand kids had a blast!
That fellow on the end has been getting my fish for over 25 years... As the owner of GoatFeathers he and I did business back when I owned the fish house on a daily basis. Now I take him to the fish once a year instead of the fish to him 5 days a week..... he can dang sure catch 'em too!
just to prove the "new" clients can catch 'em too...a great catch.
and, proving my old adage once again, guess who landed that BIG King in the middle of a fine catch ? yep, MOM!
We'll have to see how this storm on the other side of the state affects us. It'll be breezy but as long as stays on the Atlantic side we should be able to fish up in close and still catch a few. We caught the first Flounders of the season this past week so as soon as the water temp drops a couple degrees I'll put that tackle on the boat as well as the bottom and trolling gear. I'm gonna need more rod holders !!!
Tagged
Add comment