Story
"You're So SoWal If..." Presenting Our 2014 Winners
September 11, 2014 by SoWal Staff
The judging is complete and the official results are in for our 2014 "You're So SoWal if..." contest!  A big SoWal thanks to everyone who sent in entries to make this year the best ever with great stuff from across the country. Beach lovers near and far know and love South Walton beaches!
This is the 4th year of our contest and every year we are thrilled by the creative, funny, and heartwarming entries. Thanks to everyone for sharing what SoWal means to you, especially our loyal SoWal Forum members.
We hope you enjoy reading the winners and top entries as much as we have!
Our 2014 Overall Winner  
You're So SoWal if ... you're resting in peace, but still alive.
- Gerard Dalessandro
First Runner Up  
You're So SoWal if ... your bumper stickers reads, "I'm a proud parent of a beach bum".
- Eve Andriola
Second Runner Up  
You're So SoWal if ... you get teary eyed when you see the OPEN sign light up at Seagrove Market Cafe after a long winter.
- Elaine Parrett
All the finalists for 2014, You're so SoWal if...
you bring a chainsaw to the beach in case you see no trespassing signs. Bob Jameson
your source for local news also serves beer and wine. Matthew Jones
you only own flip flops. alice gober
your so SoWal if you you consider going to San Destin an out of town trip. sarah mowell
you decide to name your next baby boy Walton, then you have girl and name her that anyway. Brian Kautz
 
You really need a bigger boat - Rick Long
you are heading South and your car doesn't stop until it sees the white sand. Ursula Smith
you look forward to the first of the year because you're a snowbird. Ursula Smith
you are planning your next trip back while your are there. patricia wells
you can't stop smiling. patricia
you get sand in your keyboard every time you check SoWal.com. alice gober
You don't have to ask "What's that big black sticky ball hanging from your porch for?" Mindy S
you know that every bridge on Scenic 30A is like the dry cleaners...Closed at random, on holiday weekends, and when you need to get to a party. Jill Tanner
your laptop smells like coconut oil. alice gober
You have almost as many remedies for yellow fly bites as you have recipes for King Mackerel. larry pentel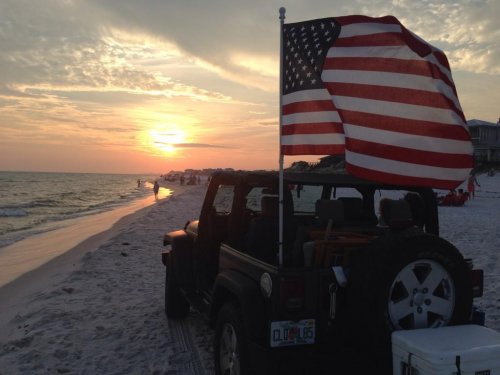 Grayton Beach Sunsets are patriotic - TailGrayton
there's an inch of sand in the bottom of all your purses. alice gober
If you think rush hour is when the bike path is most crowded. dan mcmurtry
your watch tells the tides instead of time. alice gober
driftwood is your Christmas theme. alice gober
You slap a SoWal sticker on your grandson to take a picture! Lori Brunson-Smith
you know where, and what, the "Small Mart" is. Bobbi Henson
you're more scared of getting bitten by a Yellow Fly than a shark! Taryn Foster
You can take anything and everything on your bicycle. Heidi Davari
you buy your sunscreen in bulk containers. alice gober
your tan lines never fade. alice gober
your tan lines have tan lines. alice gober
You crave Local Catch  white sauce and Caribbean tacos.   Carol Prinz
you buy a clay-colored collar and leash to match your dog's feet. Laura Lehr
Happy is not just a hour, it is a lifestyle.  tara davis
You buy a glass of wine from Modica market in a walking cup. Cindy Jarmon
the childen you brought here on vacation are now bringing your grandchildren and great-grandchildren. Bo Rentrop
You have seen a baby bear run across the road on your way to the Hurricane Oyster Bar. Kathy Finn
you send your land locked friends selfies of your toes in the sand. Debbie Klpatrick
more than half the people you know are realtors, architects, or builders. Dale Smith Stackable
 
You have your own shower stall at Bow Wow Meow - John Scanlan
you got married in a beach coverup and flip flops Wanda Cherry
you enjoy more sunsets than TV! Megan Harrison
when you use the baby changing table in the public restroom at the beach to clean your fish. ann scott
You don't need a clock to tell you it's after 6:00 at the beach! Sheila DeLashmutt with photo
your 6 year old wears his favorite Seaside T-shirt for hikes in the Smoky Mountains. melissa harper
you have posted a trip report on the SoWal Forum. Kathy D Wells
you leave your guns back home! Kathy D Wells
a beach rainstorm gives you an excuse for a much-needed nap. Kathy D Wells
you don't make it to the Red Bar on your South Walton vacation. Kathy D Wells
all you can do when you return home from vacation is sleep for days. Kathy D Wells
your first meal is always Goatfeather's steamed shrimp and tuna dip. Kathy D Wells
the keg you had delivered on the beach floats before you do. Kathy D Wells
your beach coverup doubles as your dinner dress. debbie myers
 
Beach dogs rule! - Sheila DeLashmutt
your dog has gained weight because of Dawson's pupsicles! debbie myers
when you think Destin is a planet far far away and you would rather order supplies over the internet than to venture out in that chaos. Lorie
you stay in Seaside 2 weeks and never have to leave town betsy yates
you slap a SoWal sticker on you grandson to take a pic! lori brunson smith with photo
you wake up every morning in a sandy bed with a sunburn, and you're ready to go again! yvonna miller
your innie has become an outie. Jim Tucker
you don't like golf anymore because it involves golf carts. Jim Tucker
you have to park in Grayton to work in Seaside. Truman
you know better than to grocery shop on Saturday! TJ May
you you know what horrible biting bug a sticky black ball hanging in your back yard will attract. Jenny Dargavell
 
Pelican rescues are part of your day. - Edmond Alexander
you remember when Goatfeathers and Salty Dog were the only restaurants on West 30A. Leonard Anderson
you ever took a ferry across the bay to get to school. beachmama4
you miss the beachcomber at Salty Dogs! beachmama4
you have eaten your body weight in boiled seafood at a place called Mango's (or even if you REMEMBER "Mangos") JodiFL
you believe the area is ruined because everything didn't remain exactly as it was the day you arrived. Poppy
you prefer to be somewhere else on the holidays. Dawn
 
Swimming with manatees. - Brock Ellis
you're resigned to the fact that there's no way you're going to be able to order take out pizza on a Friday or Saturday night. Happy To Be Here
you'd rather be inside online than outside during the middle of the day in July. Mike Jones
you can remember when Santa Rosa Beach had five houses at Gulfview Heights and that you can still pick them out. Will B
you look at the SoWal website more than once a day. Leonard Anderson
 
You don't have to choose between fishing and tanning. - Larry Pentel
Tagged
Add comment