Story
Bonus Fish Are Back in SoWal
May 6, 2016 by Larry Pentel
Fishing is coming back around towards the summer season with more and more species showing up in close to shore. As I said in my last report, the arrival of the big bait schools up in close is quickly followed by the pelagic predators.
We have been seeing Kings around just about every day as well as bigger Spanish, Bonita, even a few Black Snappers on the close in spots. The sharks have showed up thick as well. If you hook a good fish and don't get it in quick there as a good chance you won't get it in at all.
The Vermillion Snapper bite remains strong with limit catches most trips and the fish are a good grade as well. Still some Cobias around but, all in all, it has not been one of the best years for the brown-backed crab crunchers. Still lots of Triggers too but they seem to know right when to quit growing with the majority being "just" short.
Most of the spring break families have gone home but I am still taking a few kids along with lots of "grown ups", gotta love watching kids catch fish. Here are a few kids of all ages that caught 'em good the past couple weeks.
This fellow has been fishing his whole life but just the past year with me. Another first for him here with a fine Jack Crevelle.
Vermillions, Trigger, Spanish, Bonita, lots of hard pulling and some fine eating too.
Dad and the kids with Vermillions, Trigger and Bonita.
Another Dad and kids with more snappers and a fine King, the Kids were more excited about that shark though.
There's a Big King with those Snappers!
More Snappers, Kings and Bo Bo's.
This crew got a Cobia as a special bonus fish on a bouncy 4 hr. trip.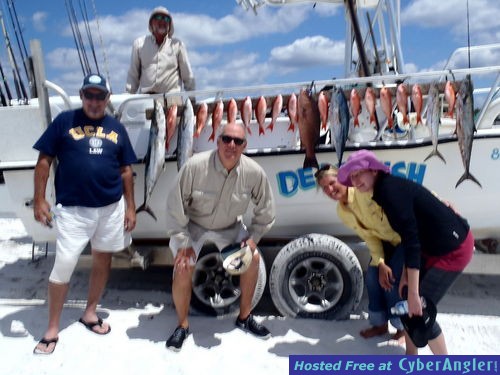 Look at the size of that black snapper. I was excited about that bonus!
Beach local Clarice (the mcaw) hamming it up on a fine catch of Kings and Snappers yesterday afternoon.
The much anticipated first day of Red snapper season is this Saturday. While they are just open on weekends 'till may 28th I am looking forward to getting to add yet another species to the fish boards.
Tomorrow it's time to insert more baits and play again. Gotta love the fishing game!
Tagged
Add comment