Story
Breakin' Into Full Boxes
April 13, 2016 by Larry Pentel
The weather has still been back forth a bunch with the prognosticators wrong about as often as right. The other morning had a small craft advisory and it was the prettiest day we've had in weeks. I've had to cancel a few days when the forecast was for "nice" as well.. oh well, as Mark Twain said, "everybody talks about the weather but no one ever seems to do anything about it".
The Spring Breakers I have taken the past two weeks have been treated to some great catches of fish. Limits of tasty Vermillion snappers have been the norm along with Triggerfish, Pinks and the usual assortment of one of these, two of those. The Cobia finally showed two days ago with lots being seen yesterday as well. As predicted, the bait hit the beach two days ago which has everything to do with all these big hungry fish showing up. I have heard several good King mackerel reports too.
I was supposed to sight fish Cobia today but with a heavy overcast and the rain predicted to start in a couple hours my folks decided not to go.. can't say I blame 'em... hard to see a fish in the rain!
Here are some pics from a few of the trips the past couple weeks.
These two caught a bunch more but they were proudest of these Triggers. I love getting kids hooked on fishing.
Talk about proud, a nice gag released.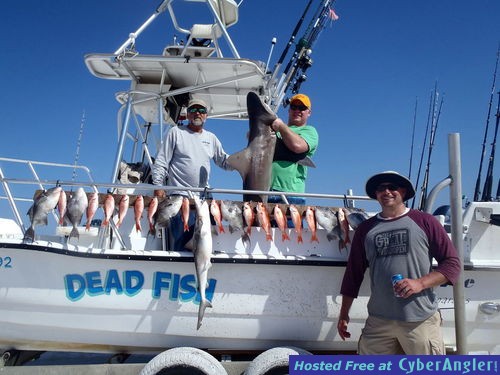 And really proud of what they kept!
Piles of Vermillions ... and a few Triggers.
That fellow on the end was a marine... and told his wife and father-in-law that catching that shark was harder than anything in boot camp!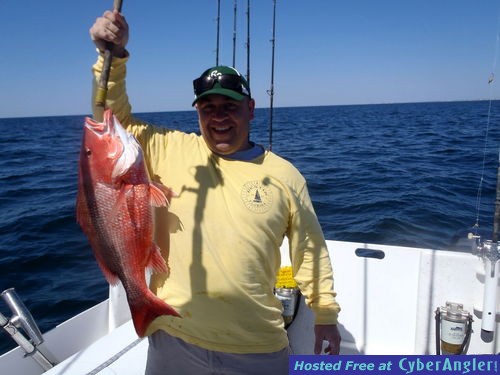 Still plenty of Red Snappers to release.
And Vermillions to keep!
These guys got a pair of nice black Snappers along with a limit of Vermillions on a short 3 hr. trip.
With the bait showing up my fishing style (and catches) will change this week. Expect to see Kings, Cobia's, Mackerel and all the other Pelagics in the next fishing report.
Tagged
Add comment