Captain Larry's Pacific Adventure
January 27, 2014 by Larry Pentel
I know, it's been a long time since I wrote a fishing report. To be honest, it's been cold a bunch here at the beach this January, I have been trying to get the fish camp painted and have been out of town for the past week. I just haven't had much to report from Grayton Beach.
The good part of all that is why I was out of town. After all these years of taking everybody else fishing on their vacations I finally got to take a fishing vacation of my own and chase a critter I had never caught (or seen) before. My son-in law and his wife (read "daughter") gave me a fishing trip to the Pacific coast of Mexico to fish Striped Marlin for Christmas. He and one of my long time fishing buddies/client and I got to fly to Mazatlan and fish the big pond for four days. While we had some communications issues with our charters operators ( especially on the inshore trip) we all got to catch a Marlin. I even got two to the boat. A big time was had by all!
Here's some proof from the bus drivers holiday....
My first Striped Marlin puttin' on the show.
 
Proof that I can turn the handle.
 
My sponsor and son-in-law the chef with his first just prior to release.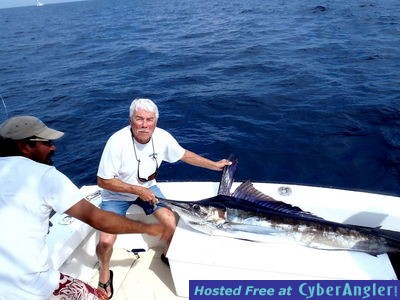 This fellow and I figured out we had been fishing together for 30 years... he had been in the big Pacific prior but had a blast with this acrobat.
 
A bonus fish that the chef caught and cooked made for a great breakfast.
 
Another one in the air!
 
While the charters were run very differently from what I am used to doing the sheer number of Marlin was incredible. We saw lots of free jumping fish as well as lots of fish balling up bait just under the surface. No wonder so many folks want to go fishing on vacation! Not only did I not have to clean the boat I even got to drink beers on a boat for the first time in years!
A just released fish back in it's element.
 
I should have some more local pics and a fishing report from the Gulf up here pretty soon. I'm sure the cooler temps have pushed the fish out of the shallow water and the bigger Jacks (along with Groupers) up in closer to intercept the smaller ones heading out... stand by for pics for proof.
Tagged
Add comment