Story
Coastal Dune Lakes Episode 1 - Introduction to the Lakes
June 11, 2014 by Nic Stoltzfus
For months now our team at Live Oak Production Group has been posting photos, teaser videos, and blog posts about our upcoming project on the coastal dune lakes of Walton County, Florida. We have recently received full funding from the St. Joe Community Foundation, and are now in full production mode.
The film is slated to be released nation-wide on Public Television the week of Earth Day 2015 (Next year Earth Day is April 22nd). Our team at Live Oak Production Group has partnered with WUSF Public Media as the presenting station for the hour-long documentary.
Now that you know a bit about the project, you may want to know—who is the team behind it all? Live Oak Production Group is an independent film production company based out of Blountstown, Florida. A small town in the middle of the Florida panhandle, Blountstown is a perfect place to access Florida wilderness. We focus on telling Florida nature stories; over the years we have logged countless hours photographing and filming landscapes and wildlife all over the state. This footage has been made into documentaries shown throughout the nation featuring Florida's natural beauty. Full-length documentary films include Living Waters: Aquatic Preserves of Florida, Big Cypress Swamp: The Western Everglades, Kissimmee Basin: The Northern Everglades, Florida Wildlife Corridor: Everglades to Okefenokee, and the upcoming Coastal Dune Lakes film.
Our team consists of producer/cinematographer Elam Stoltzfus, scriptwriter/photographer Nic Stoltzfus, and editor/musician Joey Dickinson.
Elam paddling through the Everglades National Park.       
Elam Stoltzfus got his start in film-making 30 years ago in LA. Lower Alabama, that is. He first picked up a camera in 1984 working for WeCare, a prison ministry in Atmore. He has been filming ever since. He received his bachelor's degree in communication from Florida State University in 1988 and started Live Oak Production Group, an independent film company, in 1991. Since then he has produced countless shorts, 5 hour-long documentaries featured on Public Television, and recently garnered an Emmy for his work on the Florida Wildlife Corridor Expedition: Everglades to Okefenokee film. Later this month the Florida Wildlife Federation will recognize Stoltzfus as the 2014 Conservationist of the Year for Florida. He said this award means just as much or more than the Emmy because it validates his work not just as a film-maker, but as an artist striving to protect Florida's natural beauty.
 

Nic Stoltzfus, photo by Joey Dickinson        
Nic Stoltzfus, Elam's son, is also a graduate of the Florida State University communication program. After graduating in 2012, he spent a year teaching English in Japan and came home last September to work at Live Oak Production Group. One of the highlights of working for LOPG has been a trip down the Apalachicola River with Elam, Joey, and 6 other explorers in December. You can read about his adventures (and misadventures!) here.
 
Joey Dickinson at the E.O. Wilson Biophilia Learning Center. Photo by Nic Stoltzfus.       
Joey Dickinson is a 2014 graduate of the FSU College of Communication & Information's Media Production program. His senior year he interned with Live Oak Production Group and traveled the state working on projects. He came on full-time with the company this month. Highlights include meeting Clyde Butcher, an early inspiration for Joey; going on the Apalachicola river trip and meeting the folks from Quapaw Canoe Company (John Ruskey and the crew from Clarksdale, MS, will be featured in an upcoming documentary by Joey titled The Mighty Quapaws); and working closely with long-time film-maker, Elam Stoltzfus.
So, now you know a little about the production itself and the team behind it all. But your next question may be, "what is a coastal dune lake?"
At first glance of the phase you may attempt some basic word jujitsu: "Coastal dune lake. Coastal—okay, it's by some ocean or large body of water. Dune—a hill of sand built by wind or water flow. Lake—it's a closed-off body of water not connected to the ocean. Coastal dune lake. So…it's basically a lake by the ocean?"
In a sense, you are right. It is a lake by the ocean. But, with closer analysis further questions arise. How does a lake stay full when it is surrounded by sand: a permeable filter that doesn't hold water? Furthermore, what is so important about a lake by an ocean?
When we began the preliminary research and discussions about creating a documentary in South Walton, Florida, about the coastal dune lakes, we continually heard from locals that they are unique and special. We asked, "What makes them unique and special?" People scratched their heads and shrugged their shoulders, "I don't know."
In a nutshell, what makes them unique and special is their very existence. Like the Eiffel Tower in Paris or the Statue of Liberty in New York, these coastal dune lakes are unique to a place: Walton County, Florida. Yes, other coastal dune lakes exist in other places in the world. You can find them in Madagascar, New Zealand, Australia, off the coast of Oregon, and off the coast of North Carolina. You can also find an Eiffel Tower in Las Vegas and a Statue of Liberty in Tokyo. The Eiffel Tower in Paris isn't necessarily better than the one in Las Vegas (although architectural purists and Francophiles may argue otherwise), only different. The cities where they are located are entirely dissimilar and the tower in Vegas is roughly half the size as the original. The tower also has inspired some 30-odd similar towers around the world and each one is different than the one found in Paris.
What I am getting at is that all coastal dune lakes around the world are unique in their own way. What is it that makes ours unique?
From our research, we believe that the coastal dune lakes found in Walton County, Florida, are the only ones that intermittently connect to the ocean.
In a powerpoint presentation by the Choctawhatchee Basin Alliance there is a quote by Rosalie Schaffer from the National Oceanic and Atmospheric Administration that reads,
"The others are usually freshwaters lakes in coastal areas with no outlet to the sea, or are coastal lagoons with a permanent connection. I have never found dune lakes with an intermittent outfall anywhere but in Northwest Florida."
All other freshwater dune lakes found around the world (and there aren't that many) are blocked off from the ocean by dunes—those dunes form a barrier, a wall between the ocean and the lakes. Coastal lagoons form a permanent connection; ones structured most like the coastal dune lakes in Walton County are "choked" coastal lagoons. The lakes in Florida bust out into the Gulf of Mexico and the freshwater from the lakes are exchanged with the saltwater in the gulf.
You may think, "So what?"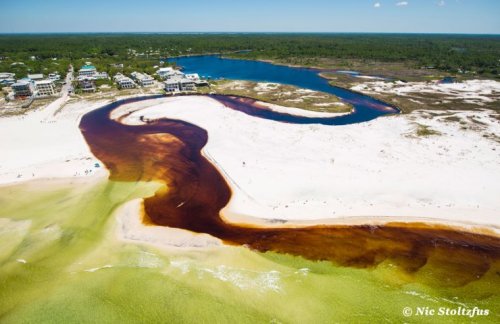 The outfall of Western Lake, the coastal dune lake found within Grayton Beach State Park.       
Consider this: In some ways this exchange of water creates such instability that not many creatures can survive in an ecosystem with such extremes. In the string of 15 named coastal dune lakes found in Walton County, the salinity (saltwater) levels vary in each lake. The salinity levels vary from month to month and also vary depending on where you are on the lake. Most lakes are saltier towards the south part of the lake, nearest the ocean. Lakes get saltier when hurricanes come and push water into the lakes with storm surge. Lakes get less salty when the outfall is disconnected from the ocean. Lakes gain more freshwater after rains. There is a constant ebb and flow; if you want to provide these lakes with one key moniker it would be change. Some have called these dynamic ecosystems "evolution in fast-forward," and it is truly astounding to see the constant change that happens every day along these lakes. An outfall heading to the ocean may shift its mouth 5 feet to the west one day; another day a lake that was previously shut-off from the ocean may bust open and the water and fish within will ride out to the ocean in a giant gushing festival-wave bringing joy to kids and fishermen alike.
As lovely and exceptional as these lakes are, if they were found behind coffee-brown dunes in some backwater community off the coast of nowhere they may have been entirely forgotten. But it just so happens that they are located directly behind miles of dunes and shoreline formed by ground-up quartz. This quartz creates smooth sand and white, white beaches. The waters beyond the sand glow green, and the whole land is an enchanted Oz. Many call this region the Emerald Coast.
Stephen Parker Leatherman aka "Dr. Beach" is a coastal ecologist who started ranking America's top beaches in 1991. His rankings of beaches are respected nationwide and his yearly Memorial Day verdict of the top beach in nation is followed by a rush of reservations by coast-crazed Americans wanting to head to America's most beautiful coastline. In 1994 he recognized Grayton Beach as America's Most Beautiful Beach. Grayton Beach is located directly in front of Western Lake, and is roughly the midpoint of the 26 miles of coastline where the dune lakes can be found. Around the time Dr. Beach's report become national news Elam Stoltzfus headed to Seaside, a nearby New Urbanist community, to cover the story for a national news channel. Dr. Beach's pronouncement has brought millions of tourists to the region over the years and has popularized it as one of America's top beach destinations. As an aside, the popular spring break hotspot, Panama City Beach, is less than 15 miles away from the easternmost dune lake, Lake Powell.
In recent years this region has been under pressure to develop land to make room for more tourists and residents. After all, who doesn't want to live and play in a beautiful place? The coastal dune lakes are still quite pristine, but certain steps need to be taken now so that they are preserved for future generations.
Our mission is to educate people about the coastal dune lakes of Walton County, Florida: everything from how they work to what kind of wildlife you can find along the lakes. As mentioned above, we are working on an hour-long documentary that will be featured on Public Television. We are also working on a series of 15-20 shorts that will premiere via YouTube. We will be posting them every other Thursday at 7 am EST starting starting today (We know–today's a Wednesday, but we were so excited about the video we decided to share it a day early! Also, when you watch the video we recommend watching it in HD).
 
2014 Coastal Dune Lakes social media short videos:
June 4th: Introduction to the Coastal Dune Lakes
June 19th: How Coastal Dune Lakes Work
July 3rd: The Coastal Dune Lakes Advisory Board
July 17th: Jewels of 30A
July 31st: Education Along the Coastal Dune Lakes
August 14th: A Prayer to the Lakes
August 28th: Activities Along the Coastal Dune Lakes
September 11th: Places of Peace
September 25th: Scenic Route 30A
October 9th: How the Coastal Dune Lakes Work, Pt. II
October 23rd: Coastal Dune Lakes and the Gulf of Mexico
November 6th: New Urbanism
November 20th: TBD (To Be Determined)
December 4th: TBD
December 18th: TBD
Along with the video work, we will continue posting weekly blogs and daily pictures about the coastal dune lakes on our Facebook page. We are also working on a companion book that will be released early 2015. If you have any questions about the project you can e-mail us at info@liveoakproductiongroup.com or visit http://www.coastaldunelakes.org/home.html.
Thanks—and stay tuned!
Video
Tagged
Add comment