Easy Fishing in South Walton
June 16, 2013 by Larry Pentel
Easy Snapper fishing on the pretty calm days - if only the weatherman could just tell us a day or two ahead of time when that is going to be. We have been catching great boards of fish when the surf and wind allows us to go, and having to cancel trips at the last minute when it blows up.
Today's forecast was for light winds and calm seas, but it blew up this morning and got bouncy so we stayed in close to the hill and found some fine fish on some spots I hadn't fished yet this year. This afternoon was a repeat, bouncy but a great catch. It is sure nice to be able to keep some of these Snappers for a few weeks!
Here are a few pics from the past week's trips.
This a.m. - bouncy but big fish and big smiles.
 
This afternoon's 3 hr - more big fish and more happy anglers!
These guys fish with me every year...and mom still hooked the most fish!
 
These gals had never been and the fellow has fished a bunch - he got out fished by one of the gals on this 3 hr.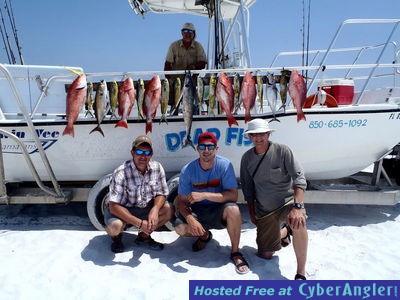 Catch a limit of fine Red Snappers quick and you have time to troll a weed line .... even on a 4 hr!
What could be better than taking your son and grandson out and catching big fish on a beautiful day?
This crew has fished with me for years in June and always wants a couple Kings to feed a bunch of folks at the beach, and a pile of Snappers to take home.
Family Fishin'... the kids always think the sharks are the best part of the catch.
Plenty of Snapper; they bite better some days than others, but we are having no problem getting a limit of nice ones and throwing back lots of pretty decent fish as well, on any given day. A few Kings around but not "hot" by any means; a few Red Groupers but once again, not "hot". Way more Blacks (Gags) around than Reds right now. A few Black Snappers, plenty of Amberines, and I have had to throw back more big (legal) Triggerfish (since they closed this month) than we kept all spring!
Get out there and catch something while we can still keep 'em!
I still have about a six days open in August to Tarpon fish at Indian Pass. If catching a giant Silver King is on your bucket list, give me a call.
Tagged
Add comment