Falling In To Another Season in Grayton Beach
October 27, 2013 by Larry Pentel
Well, the weather has turned to Fall here at the beach the past couple days. I put my trip off this morning till 10 AM so it could warm up a little, 48 degrees at daylight this morning! The gulf temp was still 80 degrees yeserday but that will be changing quickly.
The bait has all ready ganged up good on the second sandbar, there have been a couple blackfin tunas caught by kayak anglers and the Triggers have started moving in numbers up in close. It won't be but a few days and the Kings will be HOT in close along with the sporadic sailfish and tuna, and the Flounders will be stacked up on the inshore spots like cordwood. Time to change gears and tackle and start catching the next wave of finny critters coming down the beach!
Our Fall Red Snapper season was great with lots of big catches and lots pretty days on the gulf. I think I ran 2 trips a day for 16 days straight after thunderstorm karen. Here are a few of the catches from the past 10 days.
[The top photo is local Graytonite Edmond Alexander with a little friend he was retutning to the Gulf when we hit the shore.]
The last Red Snappers of 2013...I took a couple from the SoWal crew and daughter Darcy of Sirens fame on a quick 2 hour at the end of a wonderful season.
More locals with a great 3 hr afternoon board of Snappers and Groupers.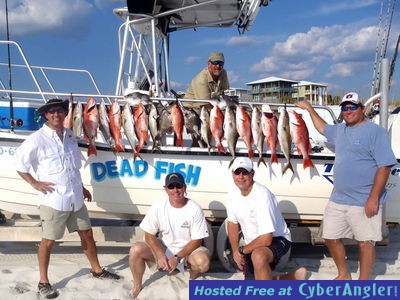 Jacks, Snappers and Triggers.
The littliest gal caught the Biggest Fish (of course !)
3 Mahi for a bonus on a morning 1/2 day Snapper trip.
These guys come down every year in the Fall for a couple "freezer" trips....this board will fill one for sure!
Another regular with a few buddies.. and big smiles.
These guys hadn't been before and worried they couldn't catch 'em.... no problem!
Plenty of other fish to fry with Red Snappers out of the picture. I am kinda looking forward to some different catches for a while..... and it's Redfish and trout season too with the temperature change. So many fish, so little time..
Tagged
Add comment