Falling into Fishing at Grayton Beach
September 16, 2014 by Larry Pentel
While the water temp may still be 87, you can tell that the seasons are starting to change. The weather pattern is moving into Fall and all the finny critters are starting to gang up and do the big feed before the winter migration in a couple months when it cools down.
There has been a lot of bait right off the beach the past 10 days and a big push of clear gulf water in close as well. That combination always means the pelagics will be in close and this time is no exception.
We have caught some fine mahi lately, no big numbers but bigger fish when we get to encounter 'em. Capt. Phil found a big piece of rope floating in a tide line yesterday and had five good fish to have the first real "rack" of the blue and green gems.
The big news from the Dead Fish is one of my anglers got to catch the first sail of the year from Grayton about a week ago. A great fish too, about 7' and 55-60 punds. We released him at the boat after more than 2 dozen jumps and some fine runs on a TLD 15. It was the anglers first billfish but I couldn't get the crew rallied up to throw him overboard.
The Vermillions have slowed a bit the past few days but the Scamps are still around in numbers up close and the Kings have really turned on this week. Plenty of Sharks about as well for those folks that want to catch "something big capt'".
As always, it aint braggin' if you got pictures to prove it.
 
Sailfish at the boat!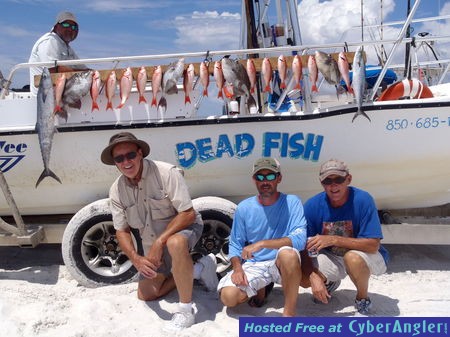 The sailfish crew with some of what we kept.
yep, That's 5 scamps on a 3 hr afternoon trip.
Kings, Spanish, Triggers, Vermillions, Pinks. A regular seafood platter from a half day.
Another morning half day with some big Kings and great bottom fish.
A pair of Kings, a fine Mahi, 3 Scamps and a Trigger on a an afternoon 3 hr.
One of my rare 6 hr trips. We had a pile more fish in the box and dad won the big fish bet with a BIG Bull we released at the boat after taking lots of pics. The only problem with running longer trips is takes longer to clean fish afterwards.
The "winning" catch from the group above he was over 8' and pushing 300 pounds.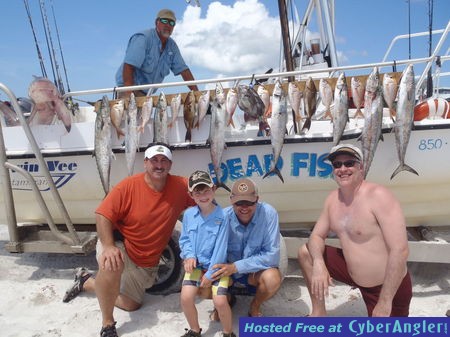 This was the young mans first fishing trip. He had a blast catching Kings and when that Black Tip ate one he and dad were fighting he was really fired up to catch the shark. Dad was pretty realistic when he said he was never gonna be able to take his son bream fishing again.
The first 'cool front' of the year is forecast to hit latter this week. That should mean more Kings, Mahi, Sails, Groupers, Triggers and... pretty soon..... Flounders!
get out there and catch something while it's still legal to do it!
Tagged
Add comment