Story
Fantastic Fish, Wacky Weather
May 13, 2015 by Larry Pentel
Fishing has really been great for the past ten days. The King Mackerel bite has been really on, there has been a push of Amberjacks up in fairly close with a lot of fish being over the 30-inch fork length minimum along with a few really BIG ones mixed in.
There are still good stands of Vermillion Snappers on some of the reefs and, as always, you never no just what "bonus fish" is gonna bite your hook on any given day. The weather has still been kinda strange. While it has been sunny and dry for the past 10 days the surf has come up a couple times for no real reason, no storms, wind or any logical cause.
I had to cancel yesterday afternoon due to big surf .. breaking 5 footers on the second bar. I, along with all the other Grayton captains am on the hill again today, the surf is only two to three feet but there is very little water on the beach and NO hole anywhere in our 800 feet of beach where we can legally launch so it is impossible to get the boats through the surf.
Oh well, if beach launching was easy everybody would have been doing it......... I just hate it for the folks I have to cancel on.
Here are some pics from a few of the trips we made the past couple weeks. If I am gonna brag on how good my anglers are I gotta show some proof!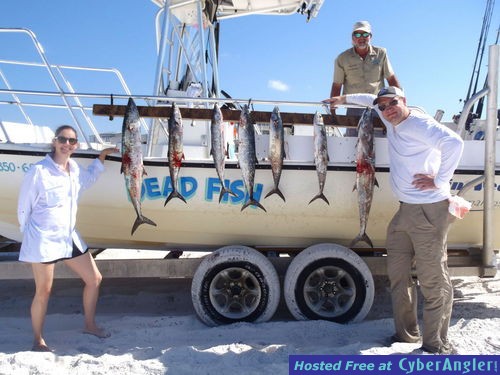 This was supposed to be a 4 hr but the surf started picking so we stayed in close and limited out on Kings in 2 hours. My anglers didn't seem to mind at all!
A limit of Kings, 3 legal Aj's with more thrown back and some Pinks to fill in the gaps A great 4 hr catch for these first timers.
These 3 guys also had Kings, a limit of Amberjacks and some Vermillion Snapper. They had a blast!
These guys not only got in on the King and Snapper bite but also caught the biggest Vermillion snapper I have seen in close to 20 years. Yes Virginia, that fish in the middle is a Vermillion!
These guys had a huge time catching Kings, when I asked 'em if they wanted to shoot for some bigger, harder pulling fish I don't think they were ready for the size of the Amberjacks we found ! That one they landed was about 40#.....who knows on the ones that got away.
This family has fished with me for years and are always up for whatever fishing opportunity presents itself. They started off hootin' and hollerin' with that limit of Kings and then got even more excited when we found a school of BIG Black Snapper (we should have had 1 more but he fell off as I was flipping 'em in the boat) A great Amberjack bite was the perfect finish to this 4 hr morning trip.
Where else can you limit out on Kings on a 2 hr trip?
Yesterday mornings crew. Limit Kings, a bunch of Bonita and 2 big AJ's... and we were never more than 3 1/2 miles off the beach!
Hopefully the Kings will stick around for us for a while, as I said, the bite doesn't get any better than it has been lately. The jacks should stay strong 'till the water starts to heat up and then the bigger fish will move back offshore. Red Snapper will be open by then so we will have a different glory fish to target! Now we just need this surf to lay and a good hole to form so we can all get these boats off the beach tomorrow!
Tagged
Add comment