Story
Fast Fall Fishin' in SoWal
October 14, 2015 by Larry Pentel
Whooo! It's been busy here at the beach this fall. Lots of folks around and plenty of pretty weather to take 'em fishing. Today is the first day since last month where it wouldn't be fun out there so I get to do chores and write a report (wish I could take a nap).
The fishing has been steady even after the big rain (flood) a few weeks ago, about the only thing all the rain did was run the Mahi off for a while. The water offshore has cleaned up quite a bit and we did have a school show up at the boat a couple days ago and were able to land a couple.
The Vermillion Snapper bite remains strong with limit catches most trips. There are still plenty of AJ's in state waters but the number of big Bull sharks around makes it tough to land a legal one.
The smaller jacks come to the boat relatively quick enough to land and throw back but when you get a "real one" on the sharks'll get 'em if you don't wind fast and hard.
Still plenty of Scamps (what a treat!), but the Kings haven't shown up enough to be easy yet, we are catching 'em pretty regularly but just in select places, the water temp is still 80 degrees and they won't go into the fall frenzy till it drops just a little more.
We had some nice Red Snapper this past weekend but had to work for 'em, hopefully they will be "easy" next weekend. A few grouper around, primarily reds but as always, they are the hardest fish to get to the boat!
here are pics of some fine catches my anglers got to the boat this past couple weeks.
these guys got Kings, Scamps, Pinks and the first Almaco jack I have seen in a while.

This 3 hr afternoon trip produced Snappers, Kings and scamp for a trio of anglers.
A Big King, those 2 Mahi I mentioned, Scamp and a pile of Snapper.
A big AJ to go with a limit of snappers and a Scamp.
This father son angling team had a limit of Kings, Scamp and, again, a pile of Snappers.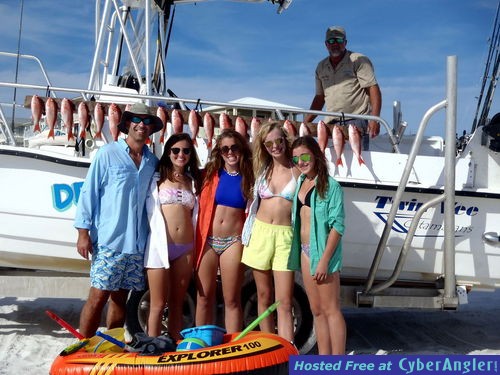 This group of girls and dad have been fishing with me for years. The 2 daughters are great anglers and piled the box with 43 Snapper and a bunch of Pinks on a an afternoon 3 hr. That boat is in the picture 'cause they caught it too....Dad saw it floating 5 miles offshore full of all the stuff you see in it.
Yes guys, that gal landed that Red Grouper.. he's still fightin' hard.
The rest of the catch. She not only got the Grouper but landed the biggest Red snapper as well.
Another great Father/Sons fishing memory... and some good dinners too!
These guys had a limit of Snapper to go with the Jacks and Kings on one of my few "longer" trips. They said they'd be real mad if I didn't put 'em in the Fishin' report.
Off to the tackle store, marine supply, hardware store and Sam's... lots of errands if I can't fish!
Tagged
Add comment