Fishing In SoWal Is Just Great!
October 19, 2010 by Larry Pentel
The title is the easy answer to a whole pile of questions. The weather has been on one of the longest runs of darn near perfect I can remember - the June grass has (finally) left the beach leaving crystal emerald water and the fishin' aint shabby either!
Every Friday brings yet another opening day of snapper season and lots of boats out capturing 'em.
We have had some very easy days, releasing lots of "regular" size snappers and just throwing the larger ones in the box.
Grouper, Snapper and clear calm water
I have been running 2 trips a day most every day
and we have had some great short afternoon trips as well. When it's slick and the boat can run over 20 knots there are lots of choices on where to fish !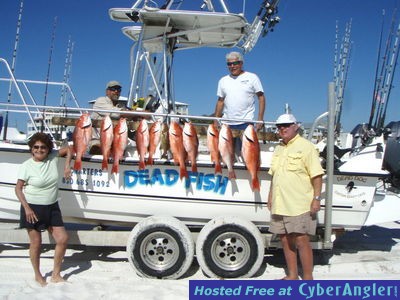 Quality on a 2 hour trip ! These folks have been doing it for years though.
The first timers and once a year folks are smiling too!
I ran a 3 hour afternoon trip and didn't limit out snapper. The weather was perfect so that wasn't the issue. The fishing was too good ! My folks wanted to troll first before bottom fishing and the Kings were fired up. We spent our first 2 hours catching ( and releasing ) a bunch of kings and I didn't have time to train 'em up on slip lead fishing before it was time to come in. We still had 5 nice big red ones and I got the best complement I think I have ever had. One of my younger anglers told his dad that "This is better than Disney world !" . Dad asked if next year they could just come to the beach and fish every day for 5 days instead of going to Orlando, both kids quickly said "YES"-- We'll see how that goes with mom though---
Better Than Disney World
Back to Monday and the Red Snappers are off limits. No problem- go and chase those other species that got negleted over the weekend. Yesterday (Monday) we even toped off the box with a nice Black Snapper in the AM trip and 2 of 'em (one BIG) in the PM.
I don't know how long these perfect conditions can last but you need find any excuse to come and enjoy the beach, water and great fishing while it does---. My wife has been fussing at me for running so hard and I keep reminding her that one of these days it wil get rough again-- and I'll be in the house for days making a mess with all my "projects".
Tagged
Add comment