Great Weather, Great Fishin', Hair in the Reels
October 14, 2014 by Larry Pentel
We have sure had some great weather here at the beach up till today. Nothing lasts forever and it's been blowy and rainy since this AM. Looks to be to rough to fish for another 2 days as well. Oh well, I have lots of broke stuff that needs fixin' from all the pretty days of running hard the past couple weeks.
The fishing has been pretty predictable since my last report. The Kings have bit well most days with a lot of big Spanish mixed in as well. Lots of Vermillion Snapper out 6 miles or so and plenty of Triggers around with about 1 out of 10 making that 14" to the fork. All you have to do is be willing to catch 20 triggers and we can keep your 2!
The Scamps have stayed up in close as well this fall which makes for a great treat for in close fishin'. My wife is adamant that Scamps are the best fish in the Gulf. I admit they are mighty good but it's hard to put a Trigger, Cobia, Tripletail or Flounder as a second class dinner.
There have been a lot of folks back to the beach here lately enjoying the fall weather and emerald green Gulf. Here's some pics from some of 'em that went fishing with me.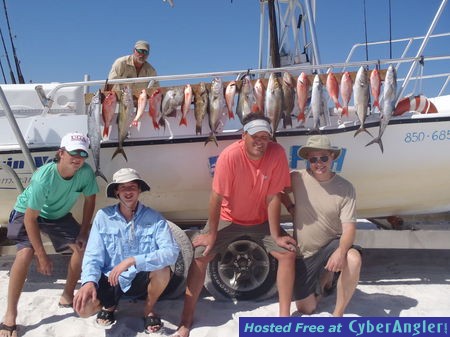 Yesterday mornings 4 hr with a great mix of Jacks, Kings, Vermillions, Trigger and Scamp.
This long time regular brought a couple buddy's for a 3 hr afternoon that got 'em Kings, Spanish, Trigger, Scamp and more. they said they needed enough fish to feed 13 folks... I hope they were hungry!
This regular brought her nephew for his first trip off Grayton... and his first Cobia!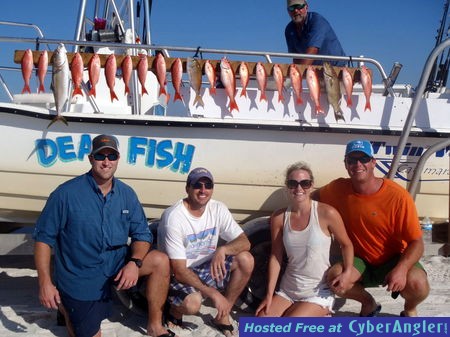 A 3 hourhr afternoon trip with Vermillions, Scamp and Jack.
These 3 not only got Kings and vermillions but had 4 keeper scamps in the box as well this morning.
These 2 gals didn't catch all the fish ....but they got a bunch of 'em and fished so hard they left some their hair in the reels!
This couple hadn't been before and didn't know what to expect. The gal said she hadn't expected to not have time to drink a beer on a 3 hr fishing trip until the ride home.
A great 4 hr catch with Jacks, Kings, Scamp, Vermillion and BIG Red Grouper ! Family fishing at it's best ! They'll be saying "remember when we went and caught..." for years .
The bite should stay close to the same for the next few weeks. The Vermillions will thin some as the water cools and the Jacks and Triggers should get a little thicker along with the Kings. Capt Kerry Jones went diving yesterday on a couple close in spots and said there were a few Flounder on the spots he swam on............I know they aren't big or photogenic but I LOVE Flounder Fishing ! Just a couple more weeks!
Tagged
Add comment